Virtual Private Network (VPN) is gaining popularity for the past few years gradually. Recently, free internet VPN services have become more popular. The year 2020 appears to be a potential game-changer for free internet VPN services as more and more people want to entertain themselves while working from home, simultaneously.
In a bit hurry?
---
It has always been hard to find an authentic and trustworthy VPN, without any cost. Countless VPN providers drowned the market guaranteeing the users a quality service for free internet VPN but almost every source had an ulterior motive. They would either limit or withdraw the connection speed, data, bandwidth, or even server locations. Some also block online streaming services which are crucial for entertainment these days.
Users are recommended to use free internet VPN of those providers that are transparent about how they handle their user data as some VPN services could jeopardize your privacy. The ones that provide up-to-date encryption are the ones that should be trusted as they hide and protect your privacy and internet activities.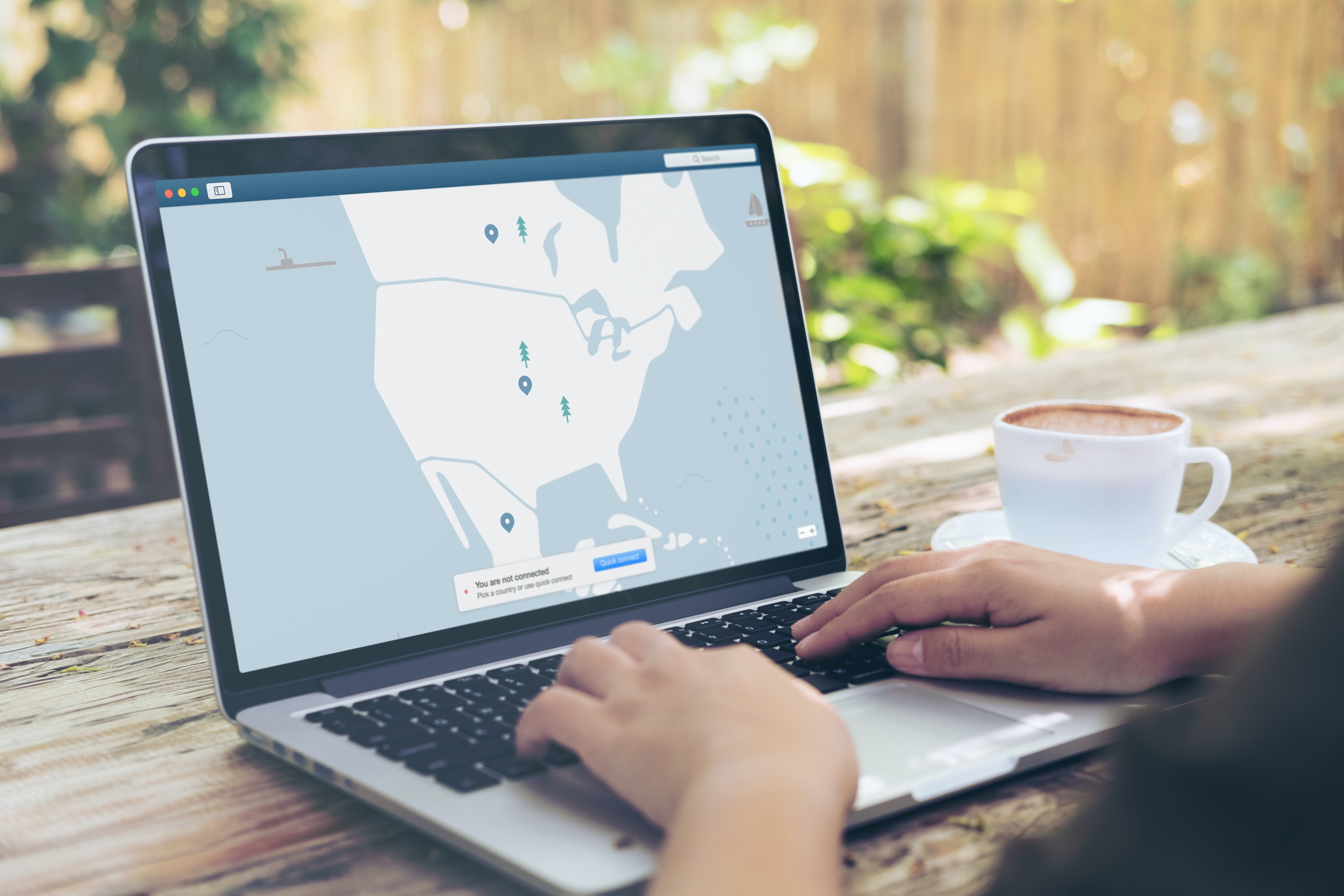 In this article, we will recommend those VPN services that are secure and free of cost.
OperaVPN
Opera is free of cost web browser that has been on the internet for a long time now. This browser comes with a built-in VPN that hides your IP address while you surf on the web. Although, the free internet VPN service needs to be enabled from the browser settings as it is only an extension. Furthermore, OperaVPN will not protect your other apps and data as it is only limited to the browser itself.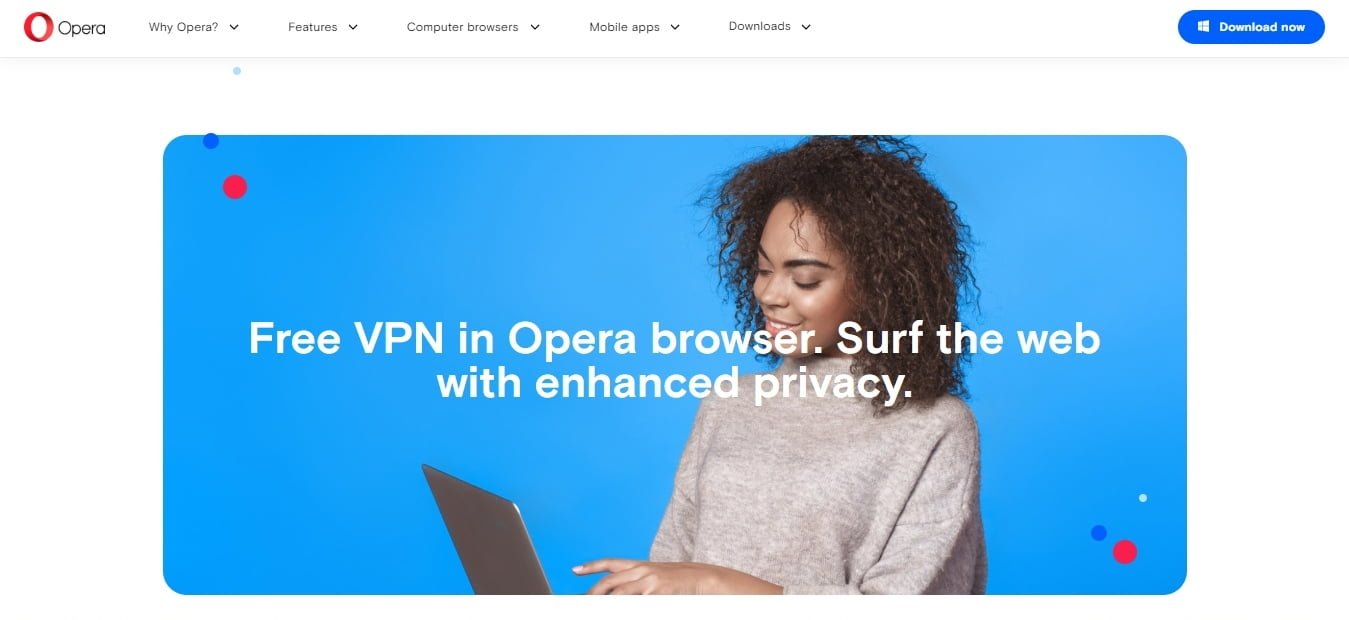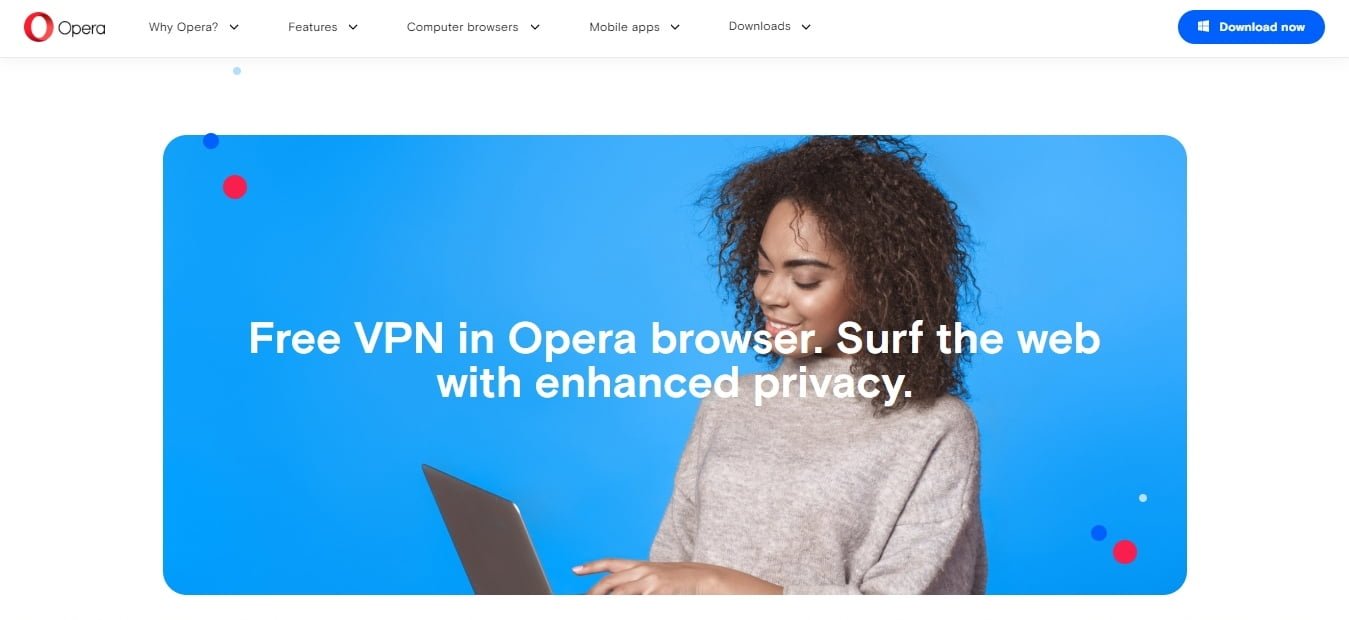 The application does not require the user to sign up or create an account. In addition to its free internet VPN service, the browser features a built-in ad blocker and malware protection. Your identity is hidden by the browser while using it. This is an advantage when using a public WiFi network as it changes your identity to anonymous.
You can choose one of the three your server location provided by the browser which are America (different states included), Europe, and Asia. As specific servers cannot be selected, this free internet VPN provided by the browser is not a good choice for streaming services like Netflix, HBO, and many more.
The VPN has no data limits and is free of advertisements. It unblocks firewalls and websites that are blocked by the internet providing host. It assigns an anonymous (virtual) IP address and makes it tougher for websites to track you. The application is compatible with computer systems as well as mobile phones. It is entirely free.
To turn on the VPN service, go to Menu > Settings > Privacy and Security > Free VPN.
VPNBook
VPNBook is one of the best free internet VPN service providers which operates out of the privacy-friendly country, Romania. It offers unlimited data, secure AES encryption and a choice to select between Open VPN and PPTP (Point-to-Point Tunnelling Protocol) connections.
VPNBook only has servers in the US, Canada, France, Germany, Poland, and the UK. However, you can still get online from any location being safe from different privacy threats and malware.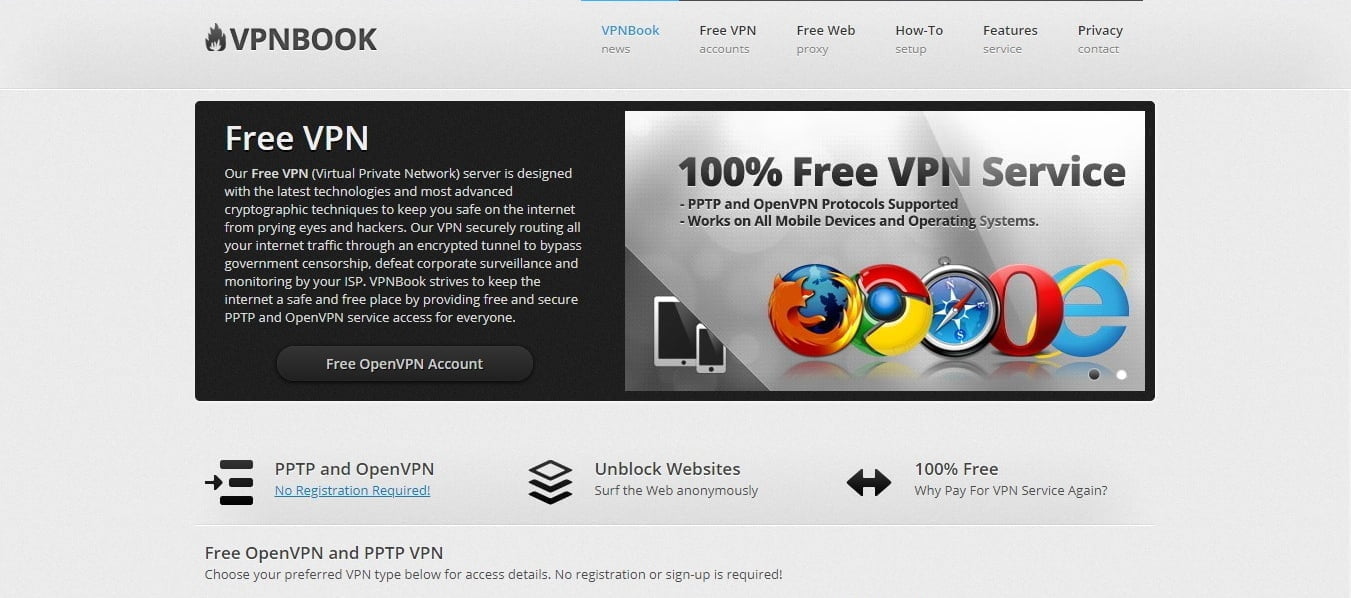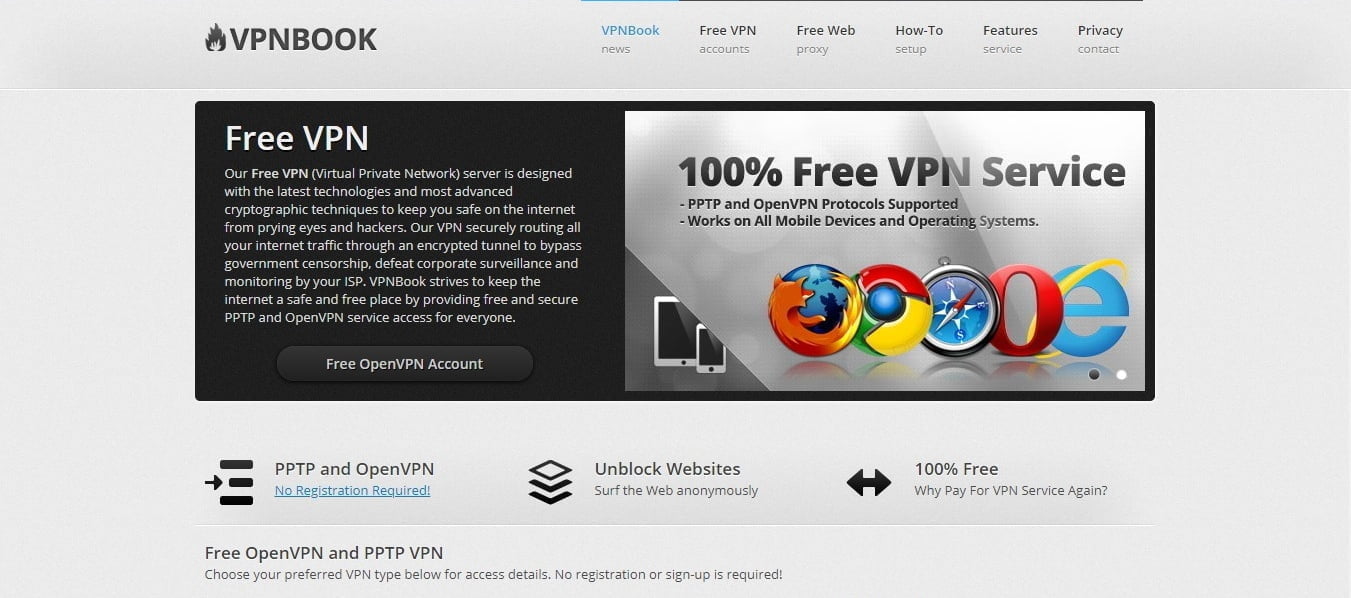 The provider does not collect any activity logs but holds on to connection logs for up to a week. VPNBook allocates manual configuration files for OpenVPN as it does not offer any customized apps for your devices. VPNBook's installation guides are available that help users secure their connections and also clear their doubts related to the complexity of manually configuring free internet VPN.
VPNBook is supported by ads which means users can expect seeing ads while using the service. It also supports torrenting on some servers and can also be used to bypass censorship.
Hide.me
Hide.me is a free internet VPN service provider that operates from Malaysia. It has a strong privacy policy, robust encryption, and tons of advanced VPN features.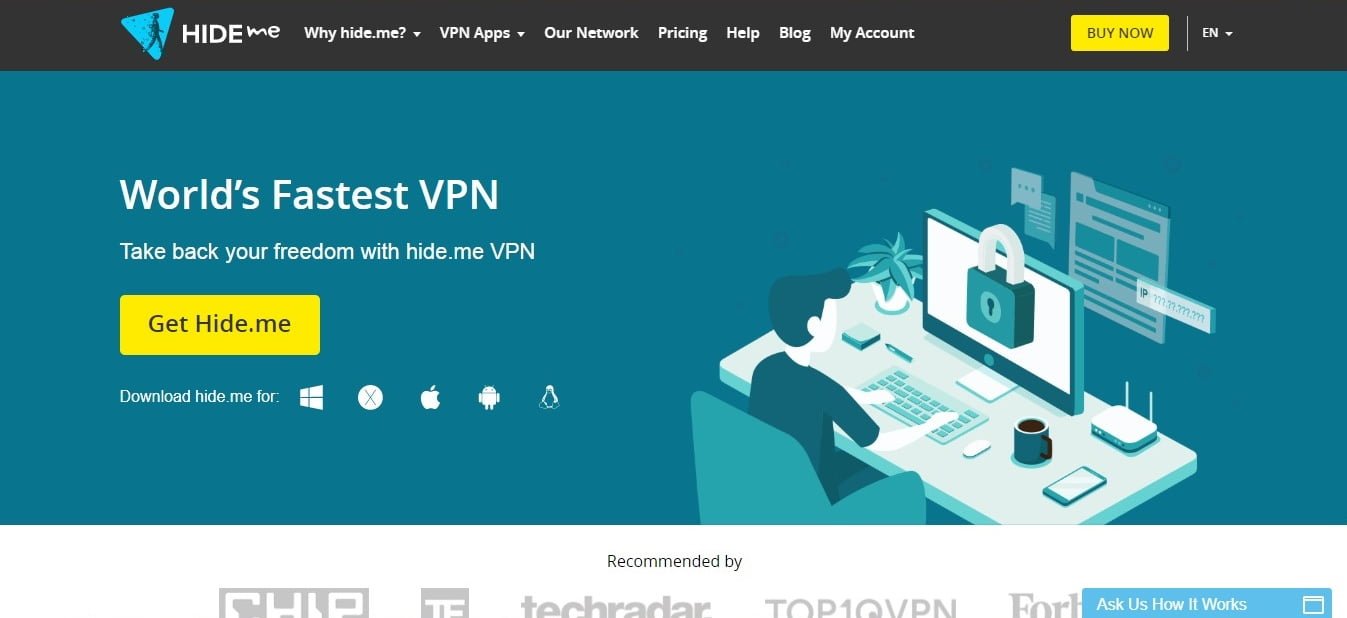 It offers a perfect deal for its free version which is 10 GB data allowance per month, with a connection speed of 80 Mbps.
It gives the users access to five location servers (USA East, USA West, Singapore, the Netherlands, and Canada) to unblock content. However, if you require a specific country as your server location then you might have to look for other choices.
Windscribe
Windscribe has been one of the best free internet VPN services. It gives its free user a data allowance of 10 GB per month and a few server locations that include the US, the UK, Canada, Hong Kong, France, Germany, Luxembourg, and the Netherlands. The premium version adds 40 more countries to your server location list.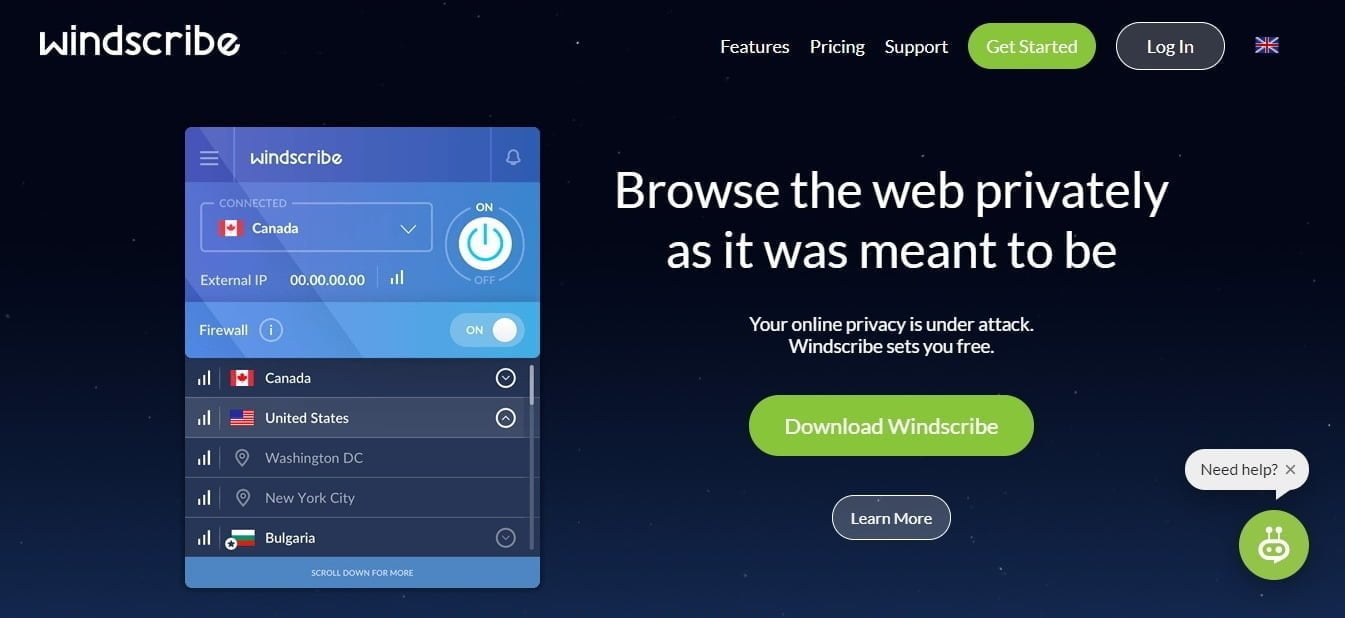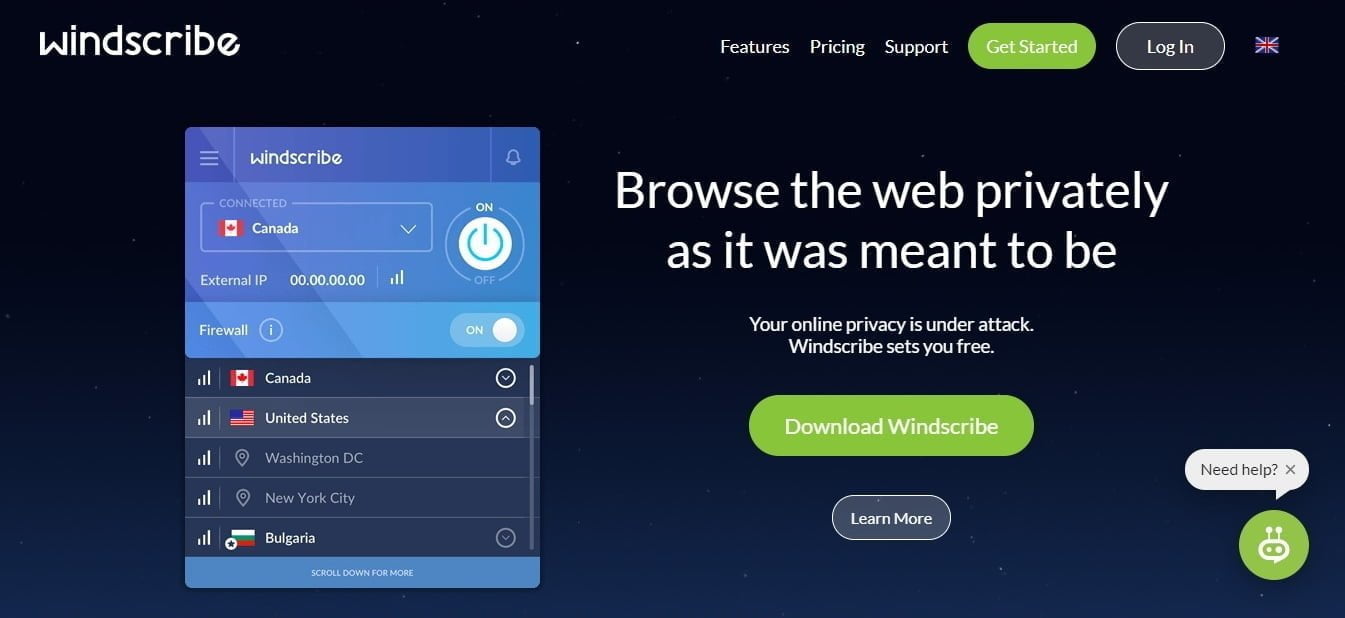 This free internet VPN has amazing additional tools other than just securing your identity and information. This include, a firewall to prevent exposure of your IP address in case the connection is lost, a secure ink generator, and also an ad and tracking blocker. Usually, other free internet VPN services limit such additional tools to premium users only but Windscribe has included them in the free package as well.
Windscribe has a privacy policy of keeping no log and also have strong encryption. It also allows unlimited connection simultaneously which makes it one of the best free internet VPN services.
Speedify VPN
Speedify is designed using VPN protocols to improve your connection speed. Although the speed is slightly increased as the channel bonding technology routes your traffic on two separate connections at once but it uses twice as much WiFi and cellular data too.
Speedify entirely masks your IP address to protect your privacy and help you access Geo-blocked and censored content online. this is because It does not contain any DNS leaks. Speedify's ChaCha encryption cipher and no-log policy allow you to surf the internet safely and anonymously.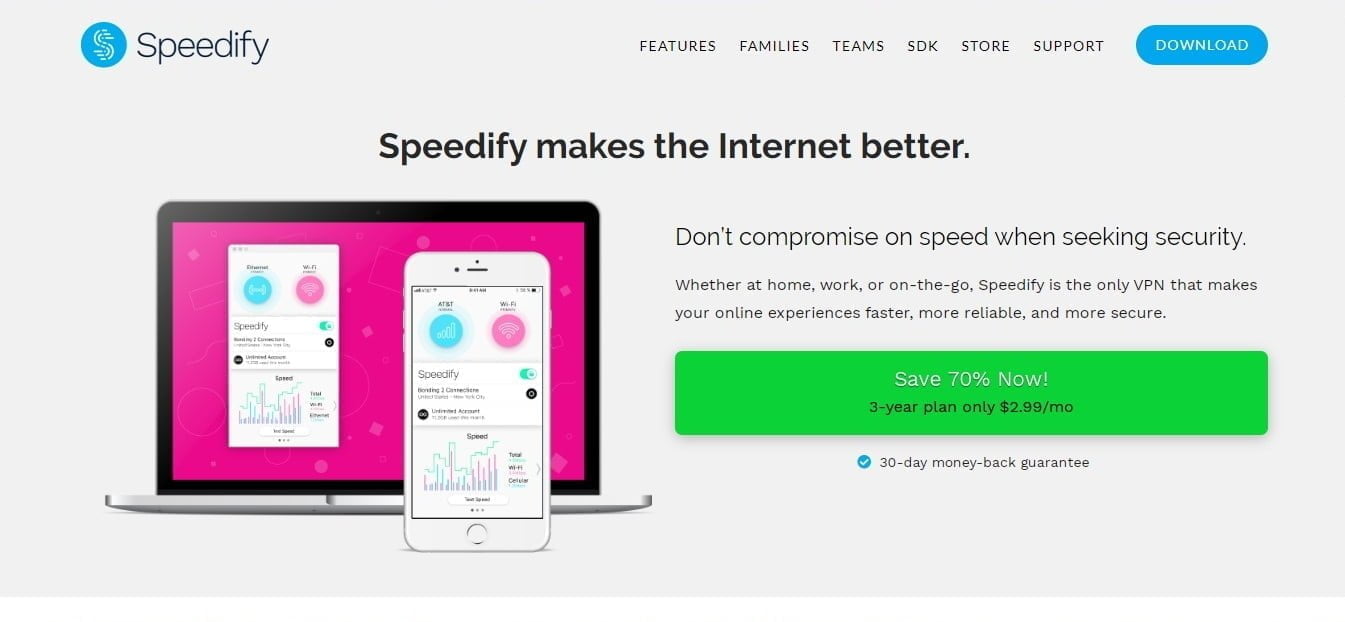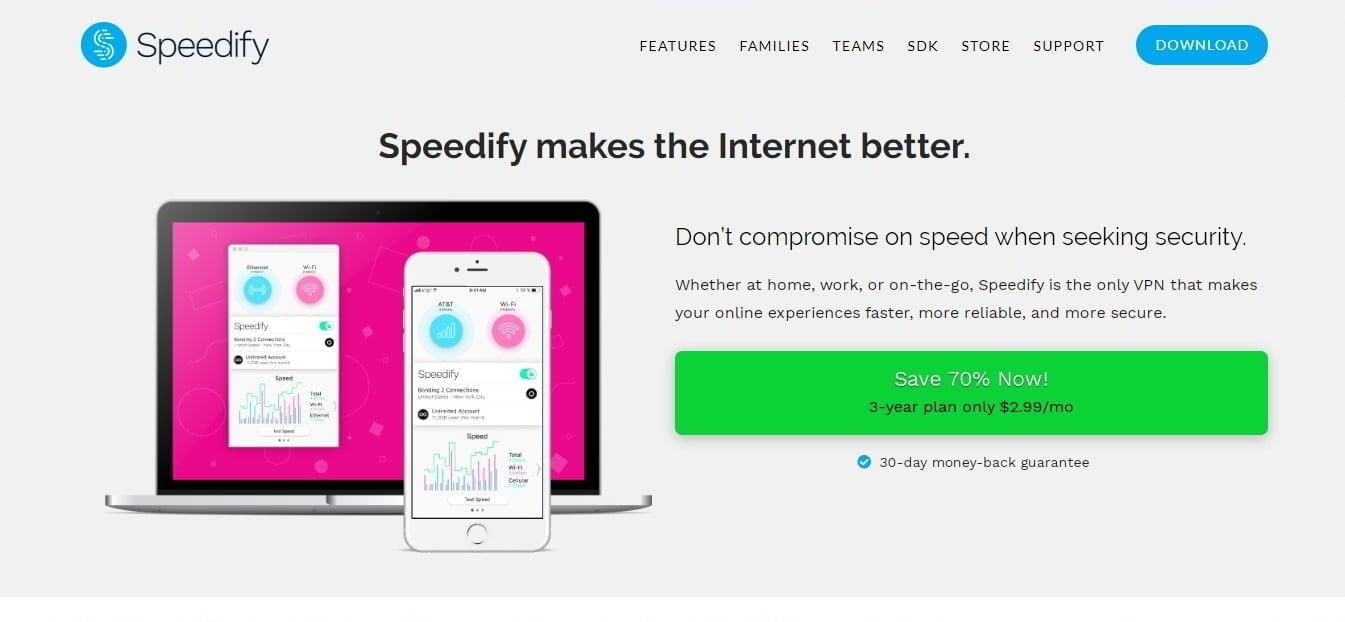 Users get an allowance of 10 GB per month which is enough for you to secure your internet connection using the free internet VPN while checking websites like email domains or more. Although, Speedify's Amsterdam server is also optimized for torrenting and P2P activities.
Fortunately, the free version of Speedify does not contain any ads as they committed to keeping your privacy safe by not sharing your information with third-party advertisers or other ads organizations. However, just like the rest free internet VPN providers, they encourage us to upgrade to a premium version.
ProtonVPN
ProtonVPN is a service provided by the developers of Proton Mail. It is a secure free internet VPN service provided to its users. It gives its free users unlimited data for surfing on the web with features that avoid censorship and allow accessing restricted content.
Free users get access to servers in the Netherlands, Japan, and the US. However, the speed of the internet gets slower when the free servers get overcrowded. ProtonVPN has almost 500 servers in 40 countries which support premium users only. Supported countries include the US, UK, Canada, and Australia.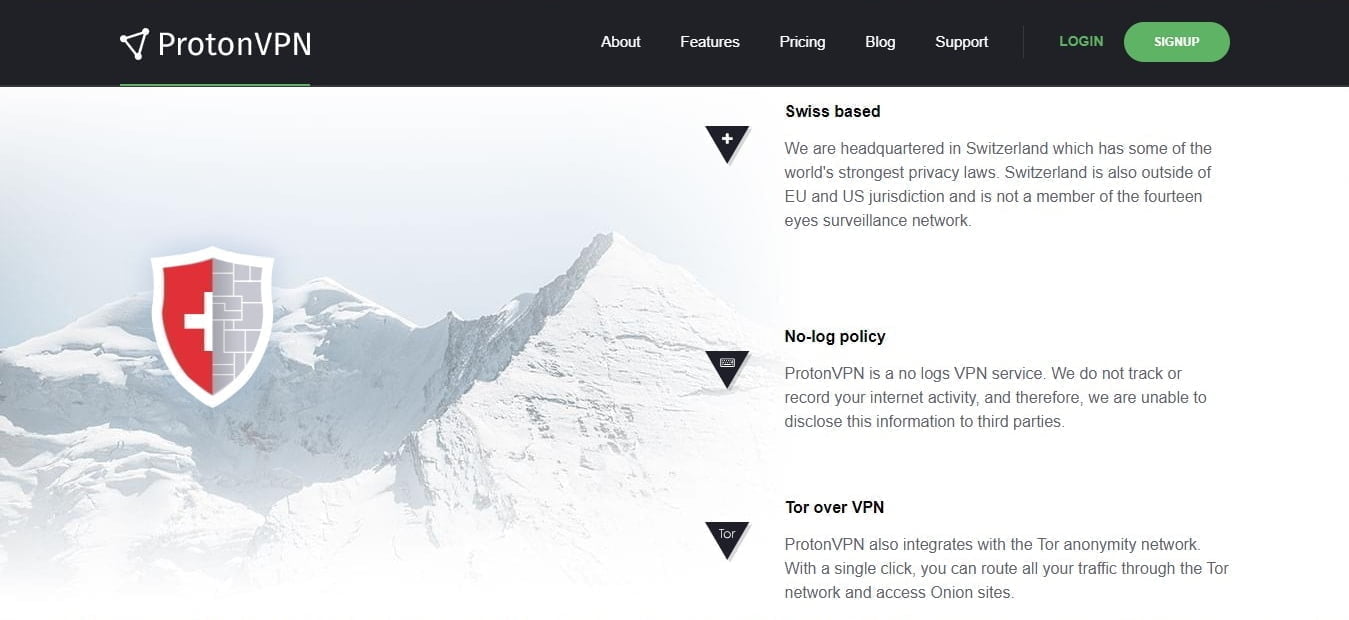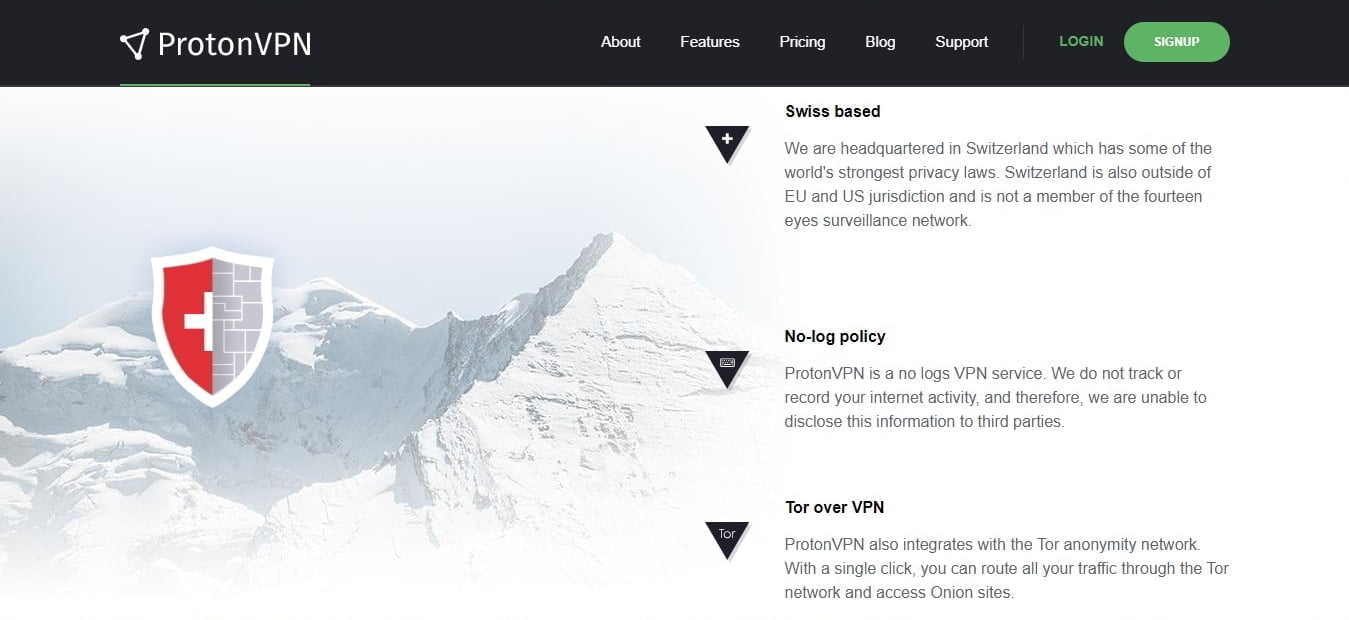 If you are concerned about your personal information or data being leaked to a potential threat, ProtonVPN is your solution.
ProtonVPN has a Secure Core Architecture that has a unique ability to protect you and your data when you surf the internet using their server. This because all your encrypted web traffic is initially passed through its server in privacy-friendly countries like Switzerland and Iceland before it heads out to the wider web. This makes it impossible for the attackers to access your IP address even if the server gets compromised.
The company does not keep any logs of its users. It also uses a Perfect Forward Secrecy in its encryption ciphers which work to keep your traffic safe and secure. This does not allow any attacker or threat to unencrypt your data even if the encryption key is compromised.
ProtonVPN is one of the few free internet VPN service providers that offer TOR connection. You can activate this feature with just one click from the ProtonVPN application.
AnchorFree Hotspot Shield VPN
Hotspot Shield has been in the VPN game for a very long time and has satisfied millions of users. This free internet VPN service offers authentic connections and military-grade encryption. It effectively masks your IP address as no DNS leaks have been reported by users.
Hotspot Shield helps you bypass censorship and content filters giving access to websites and other apps from anywhere and any time. Users can also test the premium version for free for 7-days trial.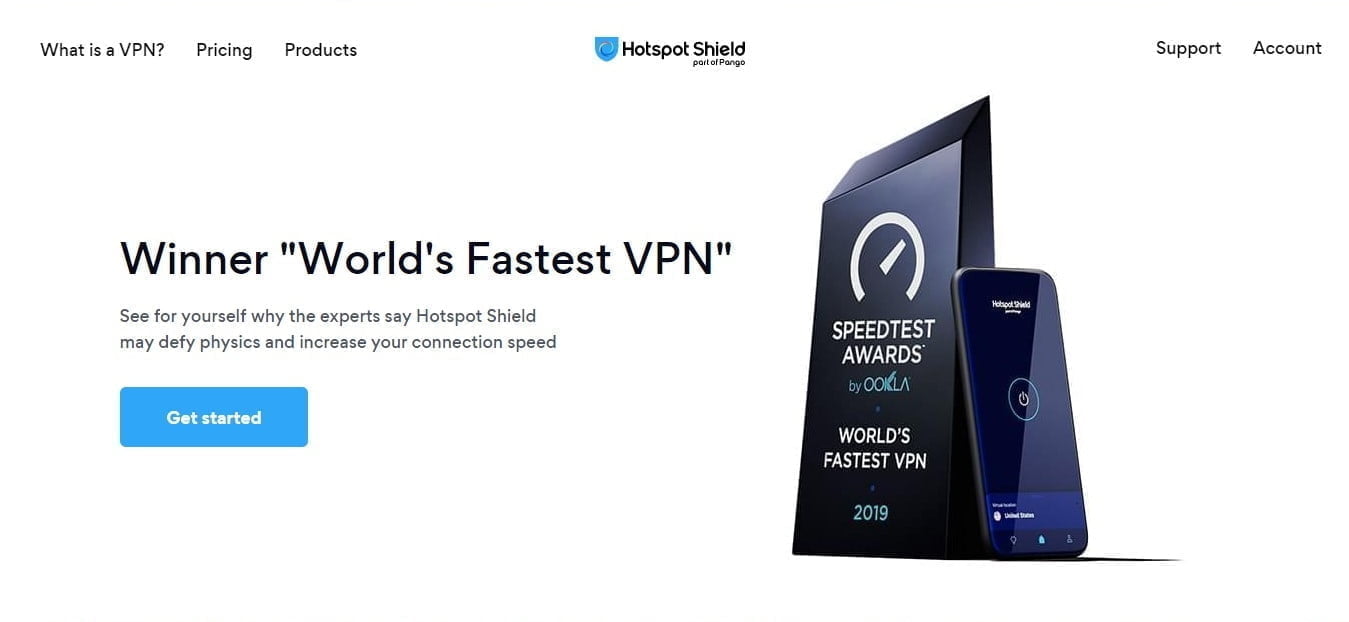 It is compatible with all the major operating systems. It has a no-log privacy policy to protect your identity. It offers P2P support for both free and premium users. It is a one-click connect app and is user-friendly.
The free version of this free internet VPN comes with a data limit of 500 MB per day which makes it a total of 15 GB per month. it is also supported by ads. Free users can only select one server location which is the US whereas premium version supports more than 3200 servers in further 70 countries.
Hotspot Shield does not allow you to stream on the free version. If you try to access streaming content, it will block the page with a premium payment wall while the VPN is enabled.
ZoogVPN
ZoogVPN is a free internet VPN service that does not log your internet traffic. It has a data limit of 2GB per month and a speed cap. The free version can be used on one device at a time and has three server locations for the user to choose from. They include Amsterdam (The Netherlands), London (UK), and Washington (USA).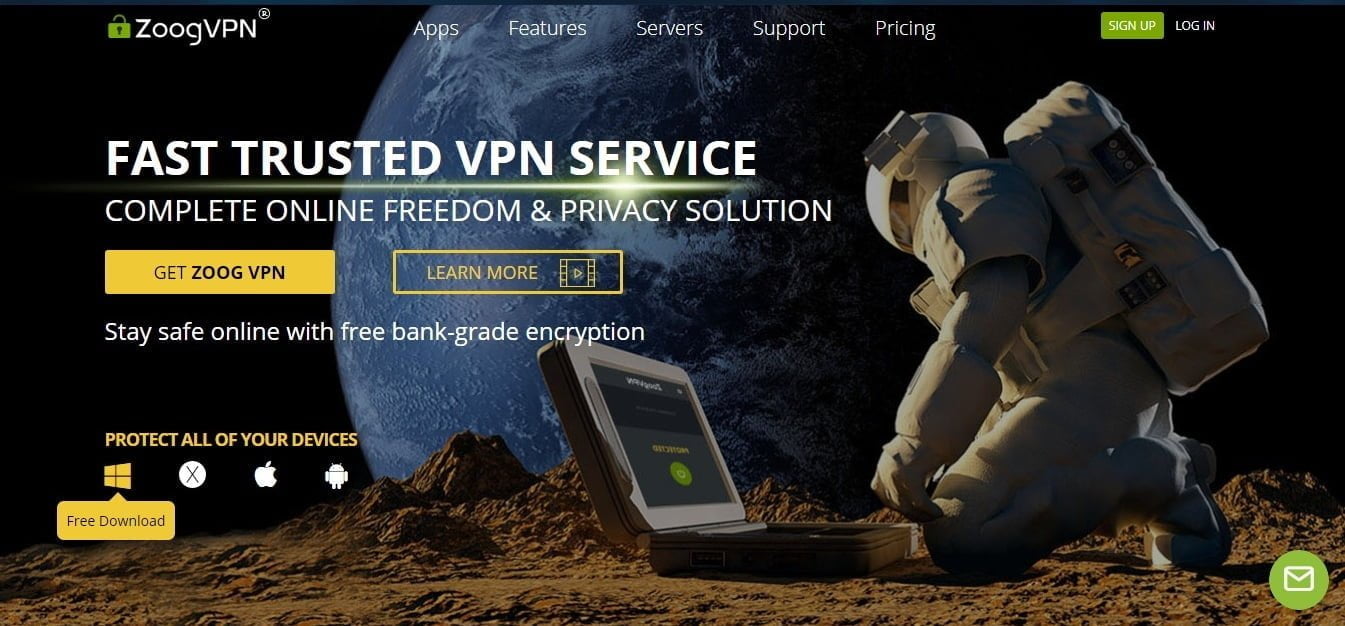 The data limit in the free version can be increased if you refer someone to go premium. This adds 5 GB to your plan on this free internet VPN.
Although, ZoogVPN is as fast as the rest of the free internet VPN, when its servers are overcrowded, the free users will notice a considerably slower speed. This VPN does not only support streaming sites like Netflix but also torrenting which allows people to download various items of their desire. Most of the time, torrenting and streaming is the reason why users experience a slow connection as these are intensive data users.
TunnelBear
TunnelBear is one of the impressive free internet VPN providers. They do not store logs and are found to be secure and reliable. Since the recent acquisition of TunnelBear by the security giant, McAfee, people have started trusting this VPN provider more.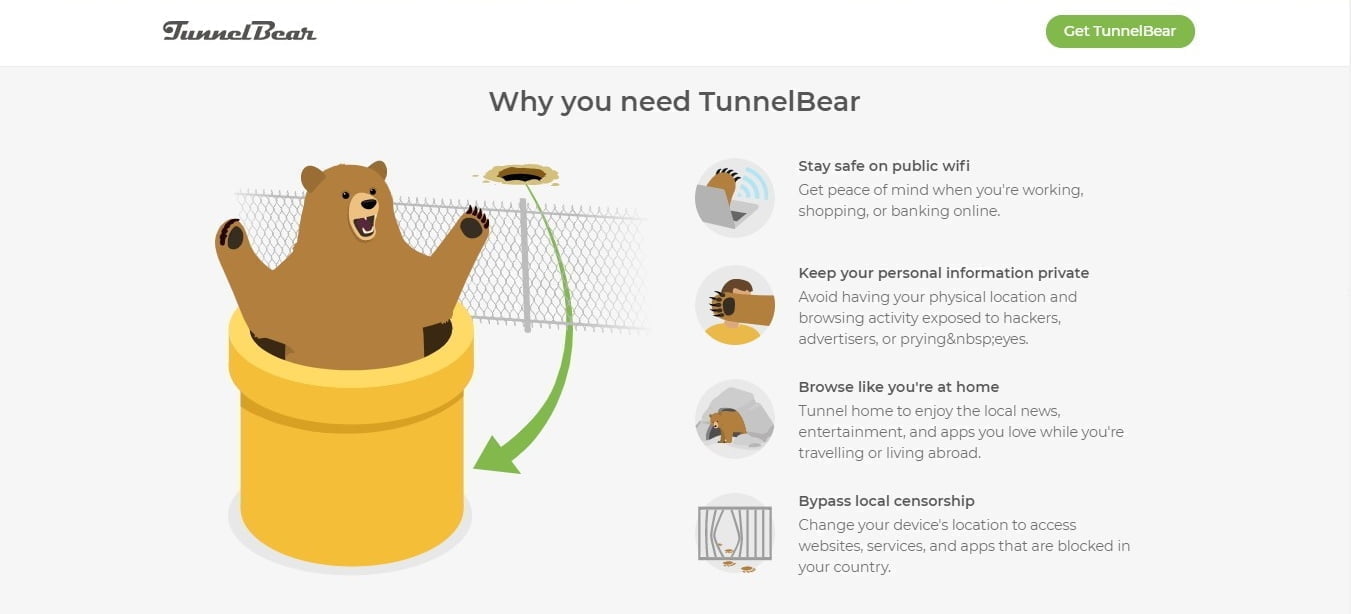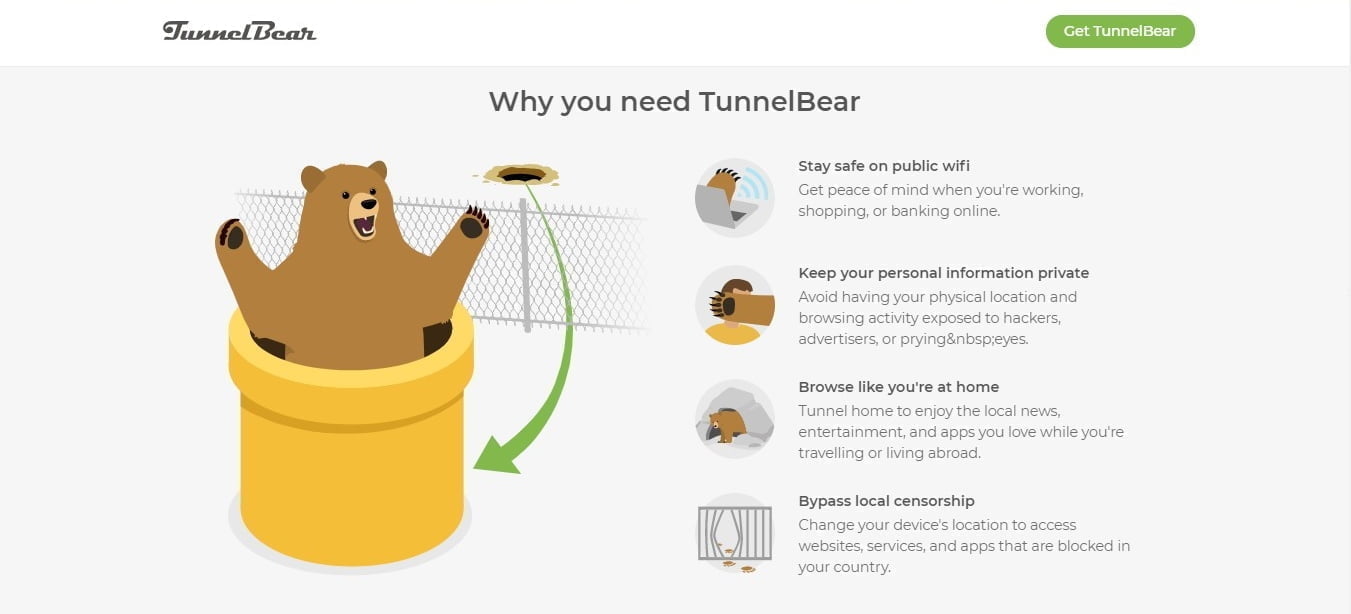 The only major drawback of this VPN service is its data limit which is only 500 MB per month. However, it is still perfect for locations with intensive censorship and privacy. This VPN unblocks these sites and data securely without letting out your personal information.
TunnelBear has recently adjusted its privacy policy which means that it collects lesser data of its users. This includes not requiring the first name of the user while signing up and also discard the records of the user's number of total connections.
Betternet VPN
Betternet is also an amazing free internet VPN provider. It offers robust encryption and reliable connection speeds. Betternet only provides its free users a data limit of 500 MB. It does not allow you to stream content on its free version. The free version is supported by ads which means you can expect to see a lot of them.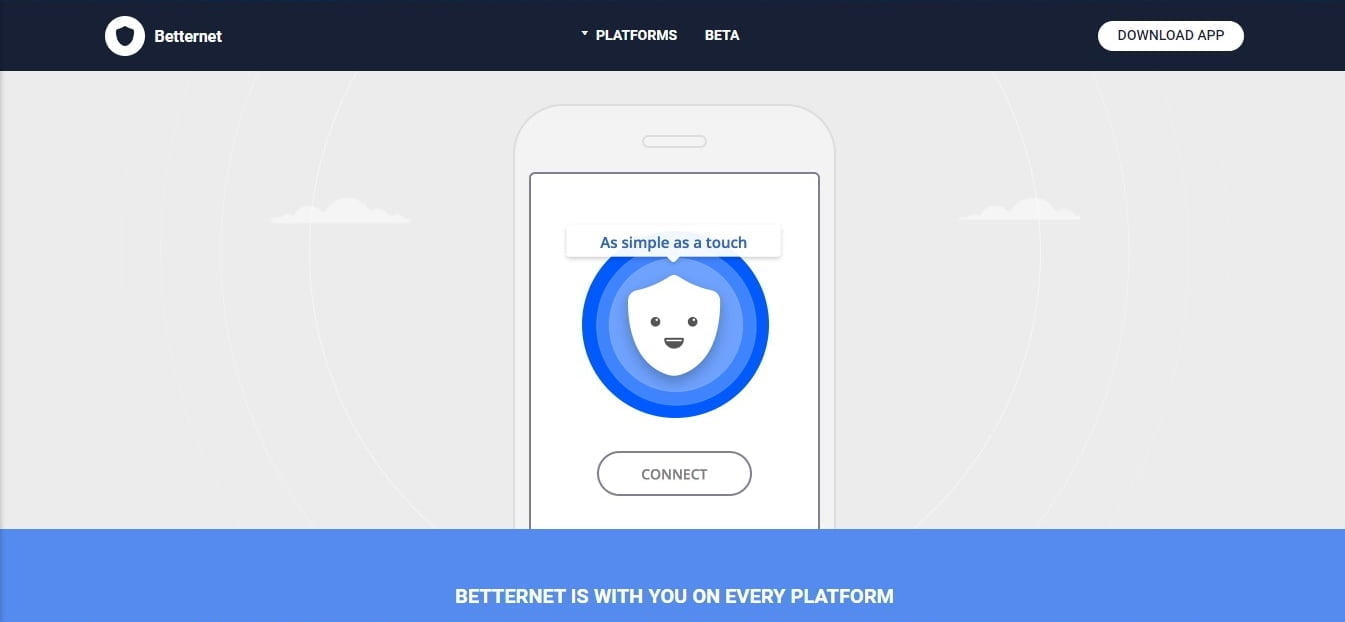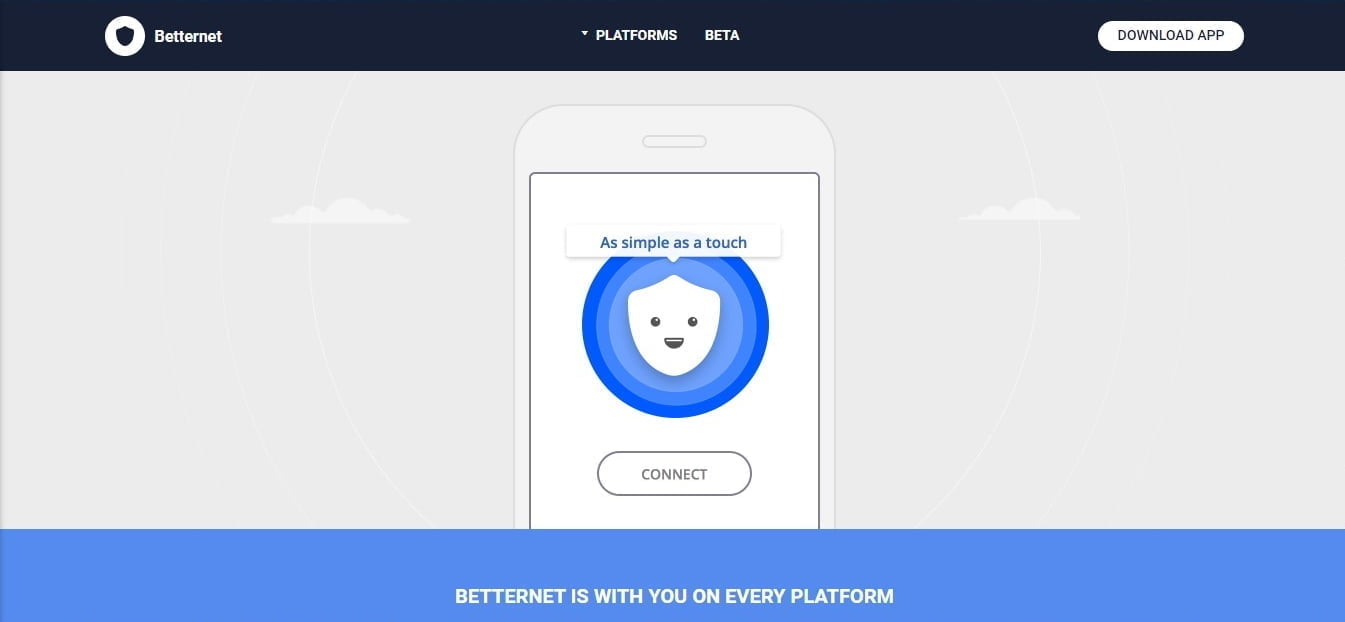 The free internet VPN only allows you to connect from a single server location which is the US server. This means you cannot access Geo-blocked websites from anywhere else in the world. However, Betternet is a good choice for protecting yourself from spying eyes when you connect to an unsecured network such as a public WiFi.
If you are looking for total anonymity, it is recommended to choose another free internet VPN as this provider collects more user information some of which may be shared with third-party service providers.
FAQs about Internet VPNs
What Is a VPN?
VPN software creates an encrypted connection between the computer and a server controlled by the VPN company and then passes all network activity through that protected connection. In this way, the online activities are anonymous from everyone including the internet provider.
How does VPN protect you?
VPN providers have an application that is used for hiding your location and other features that are found in a virtual private network service. These applications run in the background encrypting activities while the user surfs on the web.
Are VPNs legal?
Using a VPN is completely legal in most of countries but a few countries including China and Russia have restricted the use of VPNs. Although VPN might be legal in a country, if the user tries to access illegal websites, they will have to face legal consequences.
Are free VPNs safe?
The free internet VPNs listed above are authentic and trustworthy. However, many free internet VPN pose serious risks and threats to your safety. Free internet VPNs can log and track your online activity data, personal information, and your IP address. Such VPNs contain malware and viruses that cause harm to the user and the device they are using. Many users have complained about their personal information being sold to third party organizations by free internet VPN providers.
Why free VPNs are dangerous?
If a user does not take precautions and think before downloading an authentic free internet VPN, they find themselves in a very dangerous and vulnerable position. this is because they can log and track your data and also share information with third parties.
Does your provider log anything?
Users should make sure that their VPN provider is not storing their online activities. This can be done by checking the provider's terms and conditions or end-user license agreement (EULA) which are mentioned on their website. The best VPN providers delete everything as soon as the user ends their session.
Where are VPNs banned?
Presently, many countries that have a ban on VPN services including China, North Korea, Oman, Russia, and the U.A.E. Other countries impose a censorship law which in turn makes the use of VPN risky.
Does a VPN protect against viruses?
VPNs only encrypt your data and hide your location from prying eyes. Other than this, VPNs do not secure your device from incoming malware or threats. This is why a user should switch on his VPN along with his antivirus for precautionary measures.
How do free VPNs make money?
Although VPN providers have a free version of their service which is being widely used by the people, they still have to earn something from somewhere. In this case, Free internet VPN providers have targeted ads that pop up on screens that annoy users.
Can you be hacked when using a VPN?
VPNs cannot be hacked easily. They have strong encryption which keeps them safe from all kinds of threats. Even if a hacker can get into the system, they won't be able to use the data as it will be in encrypted form.
Does free VPN allow Torrenting?
Free VPNs restrict peer to peer torrenting on their servers as it slows it down. This causes congestion for other users as well. Furthermore, torrenting is considered to be slow for free servers anyways.
Do free VPN unblock streaming sites?
No, we can not use free internet VPN services to stream content. They lack the ability to unblock many streaming sites like Netflix and HBO. Furthermore, they also do not have the connection speed for the content to stream smoothly. Instead, you can purchase cheap premium VPNs as they allow streaming for different websites.
Free VPN vs proxy
Proxy services do not provide a maximum level of privacy and security like a virtual private network does. Proxy servers only helps you in unblocking content on the web and does not secure your privacy and safety.
Is it worth having a VPN?
Yes, VPNs are worth having as they secure a user's privacy and safety while they surf the internet. There are a few trustworthy free internet VPNs that have a no-log policy. There is no way of proving it but you have to trust them.
Final words
Internet is full of websites that gather your sensitive information. Later on this information is not only used for marketing campaigns but for the identity theft as well. These days, governments around the world are also operating mass survelliance programs, if you care for your privacy, you should be using the Internet VPNs.