Have you ever wondered, how to veganize your daily skincare routine? Vegan skincare products are getting more transparent day by day and have the diversity to it and if you are new to a Vegan lifestyle then this article is the best place to be where I will discuss best organic skincare products which can be incorporated in your lifestyle.
I know some of you are vegan when it comes to diet but I believe that it's important to have another look when it comes to buying cosmetic products not having animal-derived components or the products that have been tested on animals. I have tested varieties of vegan skincare products and there are so many incredible choices out there and I will share them with you.
15 Best Vegan Skin Care Products to Buy
I am happy to say that so many brands are producing products that are vegan and there is so much diversity into it. I am really into my skincare routine and so I have used varieties of such products in my daily routine and today I will take you through my own journey of Vegan skin washes. So let's get started with the routine Shall we!
1. Coconut oil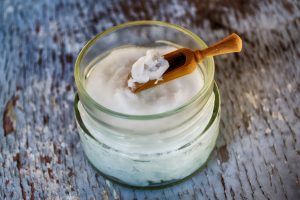 This is is the very first natural lotion that I have been using since my childhood. It was before I was into cosmetics and skincare. My hair texture has changed a lot. This oil works magically. It makes your hair
Smooth
Silky
Strong
Flexible
Coconut oil an amazing organic product as it is great for the growth of your hair. I also apply this organic product on my eyebrows and eyelashes with the help of cotton bud before going to sleep. This is the secret to my thick eyebrows and long eyelashes that I have never mentioned before but here. Moreover, if you have dry skin, you can also apply it on your face at least once a day.
My final year project was based on Microbiology and as I was studying for it, I came across many articles that were based on plant-based medicines against different pathogens and one of them was coconut oil. So let me tell you something new, coconut oil treats many skin diseases including contact dermatitis, psoriasis and etc. How cool is that!  I think that I should also incorporate this oil into my food diet.
I also experimented with this on my feet heals as they easily get dried with crack. This oil has moisturized them and avoided the formation of any cracks. It's a purely vegan face moisturizer.
2. Hand-Made Natural Soap
I know some people prefer unscented products as their skin is sensitive. If you are such kind of person then I would say that you should go for this organic product.
Gentle on sensitive skin
Good for acne-prone skin
These soap are 100 % organic. My mom makes soap at home and adds her favorite oils. They are 100 percent plant-based. If no soap suits your skin then I would suggest you should make one at your home and use that
3.
M3 Naturals Himalayan Salt Scrub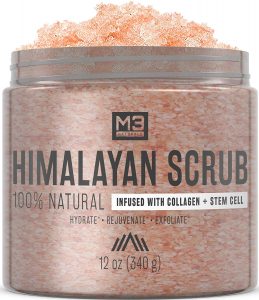 This vegan skincare product cleans the skin and it is the great exfoliator. The smell of this salt scrub is really soothing as it has an orange blossom odor. If you cant go for different scrub and just want to stick to only one then you should definitely go for the salt scrub. This salt scrub has Magnesium which is good for eradicating toxins and reduce inflammation.
Be careful with this scrub. Try to be as gentle as possible because they can damage the skin and use not more than twice a week. This scrub removes dead cells that accumulate on your skin and make you look dull and dry.
If your skin tone on knees and elbows is dark then go for this. Use this scrub on these rough areas for a few months and it lightens the skin tone on these areas. This product gives you fresh and radiant skin.
There were some months when I have used this vegan product and moisturizer only and even then the youthful of my skin was retained. My skin remained healthy and soft. One thing I have observed is that removing dead skin with scrub enhances the blood circulation that's why in many parts of the world, a salt scrub is used for massaging the whole body.
4. SoapBox Sea Minerals & Blue Iris Body Wash
Some days I don't want to use any scrub or exfoliator so I go for this body wash. I have weird skin, when it gets dry, dandruff appears on it so this body wash prevents this condition of mine. I carry this vegan product everywhere with me
Saves your time
Retain body oil
Easy to rinse off
In the world of the skincare routine, germs, dirt and pollutants are our enemies so we have to make sure that we get rid of them when we go home. If you have dry skin then I will never recommend soap as it removes excess oil so you should go for this organic product (body wash). This wash.
5. Natural Eye Cream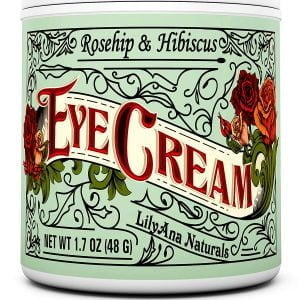 People ask me Do I really need an eye cream and the one thing I learned at a very young age is that you should start using eye cream as early as possible, drink more water and complete your daily hourly sleep. There is no harm to it. The under-eye area is very delicate and can get dehydrated easily that's why dark circles appear.
This vegan product is fantastic and has the following features
For mixed skin type
Avoid premature ageing
Hydrate the under-eye
Smoothen and relax the under-eye skin
I have seen some people using face lotion as an eye cream. I wish more people would know that they both are different. Eye cream formulation is much different than normal lotions or any other vegan lotion. Eye cream is specifically designed for the delicate under-eye.
I have also noticed that eye creams consistency is different, its thicker and if you check the eye cream ingredients, they are only meant to give protect and hydrate your eyes. As mentioned before this is a sensitive area, eye movement and squinting can also cause wrinkles so this organic product is the basic necessity.
6. ACURE Brightening Facial Scrub
I have used this vegan product scrub for a few years now. This is the only scrub I use so far as I don't like to spend money on facial scrubs. It's also not expensive. However Finance is not only the reason I use this, but I also use it because it does a lot good for my skin and has many benefits including,
Balance my skin PH
Remove dead skin
Remove excess oil without damaging the skin
Let me tell you about my experience with a facial scrub. To be honest, my skin feels youthful, cleans and softens. Sometimes it feels light because I don't have any dead skin on my face. Facial scrub varies for skin type so make sure you know what product you are buying for your skin.
Excess of everything is bad so don't use some organic products e.g face scrub excess because they can damage the skin. When you massage your face with scrub, do it gently so your skin doesn't get rupture. Moreover, don't use a scrub more than twice or thrice per week.
Here is how I use this vegan product. I wash my face with warm luke water so skin pores get open then I apply the scrub. This method will remove the dirt and oil from the pores. After that, I wash my face with cold water so my skin pores get close. If you are looking for a vegan face wash, this is it.
7. Josie Maran Bear Naked Wipes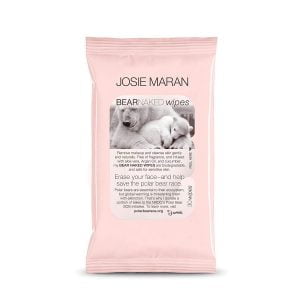 I have used these wipes for makeup removal and I love it. They have many skin-friendly ingredients. Aloe vera and Cucumber extract are included in them. These Wipes do not damage your skin and it is good for the people who have an acne problem. The few things I love about these organic makeup wipes are
Portable and can be fitted in any purse
Very convenient to use
Affordable than face cleanser
They are not followed by rinsing
100% organic product
Life is busy and fast and I accept this fact that I do get lazy most of the time and work less on my skin. This is the reason I love these organic wipes and carry them everywhere with me. They can be used when there is no water.
I live in an area where water gets cold and it takes time to get warm water so and sometimes I am too sleepy to use different lotion products on my skin. These wipes are best to remove oil, dirt, debris and makeup.
One thing which nobody will deny is that there is so much air pollution and why would you want to build up dirt on your face. Don't you want to go for the wipes which are plant-based and vegan? If YES.. then what are you waiting for? Go to the market and buy these incredible wipes. If you don't get them then go for other vegan wipes but remember always put them in your bag, you never know when you need them.
8. Korres Pomegranate Cleansing & Make-Up Removing Wipes For Oily And Combination Skin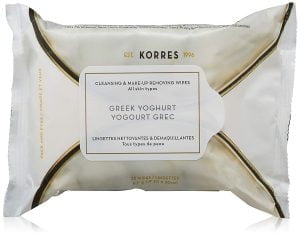 I also have tried these wipes a few times. These are oil-free wipes and have pomegranate extracts. These organic wipes are gentle on the skin and almost remove all the makeup from the skin gently. My skin also doesn't feel dry while using them.
Can be used for all skin types
Tone the skin
cleanse the skin
Vegan skincare product
In summers my skin gets different types of skin of tone. My cheeks and lip region get more tanned than my forehead so white spots appear. If I don't use toner then I use these organic wipes because they tone out my evenly. They also cleanse my skin because they counter-effect the dirt which lands on my skin from the pollutant air.
I love the aroma of this vegan skincare product and they are really gentle on my skin. The level of softness and moistness is just precise and incredible. If you are one of those who love wearing heavy makeup but don't have time to remove it then these wipes are worth having.
I also recommended this organic skincare product to the people who deal with the redness of the skin as there skin is sensitive and this has worked a lot. Personally I enjoy using them as they don't cause breakouts and are non-irritating. I have never head any complain related to these wipes that they sting or cause face burning. Another lovely fact about these wipes is that they can remove waterproof makeup gently.
No products found.
9. Mad Hippie Face Cream


When my routine gets hectic and I don't have time for all these organic products so the only thing which I use is the moisturizer. It not only nourishes the skin but also relaxes it. I use this natural lotion more than once per day. This organic skincare product does following to my skin.
Heals it
Makes skin healthy and strong
Anti-aging properties
reduce skin puffiness
After washing your face, I would definitely want to retain the moisturizer in my skin but if the skin is too wet then my skin won't absorb it so you should make sure that your skin has absorbed this organic product. I keep applying moisturizer every after 3-4 hours. This has made my skin never become dry.
Some people only apply natural lotion on their face. It's really important that your massage your self as a whole with this lotion. Gravity pulls your skin down causing sagginess and wrinkles so always apply the natural lotion on your face in upward strokes.
I know that introducing the extra step in your daily skin routine is annoying and hectic too but trust me its good for your skin and there is no way that you should skip it. I have been through many skin problems but this has reduced them.
This vegan skincare product hydrates your skin and prevents wrinkles but I would still recommend that consult a doctor before trying out these products because we all have different skin types.
10. Bare Republic Mineral SPF 30 Body Sunscreen Lotion

Sunscreen is really important. It protects your skin from harmful rays. All the ingredients here are organic as they are extracted from plants. One of the best things about this product is that it starts working on your skin as soon as it is applied. This natural lotion is dermatology recommended.
My skin is sensitive and its freckles easily appear if I spend a long time in the sun. The exposed area of skin is easily tanned and tanning takes a lot of time to disappear. The sun rays can cause premature wrinkles and skin aging and damages the skin cell.
We should always put Sunscreen lotion in our purse. All doctors recommend this. Even the school going children should apply them as this product is organic and is healthy for the skin.
Honestly speaking the only thing in my mind before using this product is to protect myself from skin cancer. Sun rays are damaging and take no time to cause skin diseases. Moreover, sunburn and tanned skin are not good for you, if you get that then take action to get rid of that and take care of your skin.
Try to use a sunscreen with more SPF. I have seen some people using SPF less than 15 and honestly speaking, it doesn't provide protection.
11.
Organic Rosehip Seed Oil for Face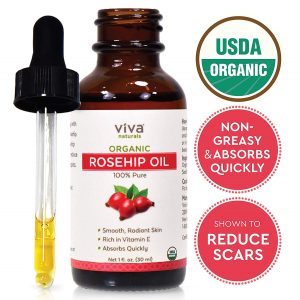 Here is my another favorite organic skincare product. I will definitely recommend this product if you are searching for Facial oil. This facial oil organic product includes my favorite oils, avocado oil and rosehip oils.
It hydrates my thirsty skin
Gives a glow to the face
Repairs skin blemishes and breakout
Oilskin routine has been used throughout the centuries and a product like this is Vegan and has natural plant-based oil extracts. In present our skin is affected by the sun, causing dryness and wrinkles, this facial oil retains your face natural texture.
I personally love this product because I have felt the oil in this deeply penetrate my skin and keep toxins out.
12.
Palmer's Coconut Oil Formula with Vitamin E Body Lotion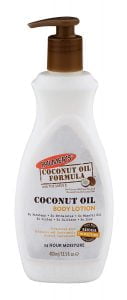 You are beautiful and that's a fact but I wonder if you are among those people, who have less time and want to use just one product for their faces. I will definitely recommend this vegan lotion. I have always admired Cleansing Milk but the coconut milk is something I would die for. Here are the reasons why I adore this organic product. Its a wonderful vegan face moisturizer.
Moisturizes the skin for many hours
Removes all dirt from my skin
Works like magic
Massaging your skin with the cleanser increases blood flow
This vegan skincare product is filled with nutrients
If you have sensitive and dry skin then go for a cleansing milk cleanser because coconut milk is always gentle on your skin. Another thing I have realized is that you can use this vegan skincare product on your wet skin.
13. First Aid Beauty Pure Skin Gentle Foaming Face Cleanser

I have never said this for any vegan product but I am saying it for this organic product… IT WORKS WONDER. It cleans skin pores, removing debris, removes excess oil and allows your skin to breathe.
Good for all skin types
Boost skin radiance
Refreshes your skin
Foaming cleansers are recommended to those people who have acne-prone skin or oily skin. This cleanser cleans the skin pores and soothes the irritable skin and leaves your skin hydrated and glowing. This is my favorite organic product and me almost use it every day.
14. South Of France Soap Bar Lush Gardenia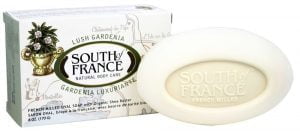 I use liquid hand wash and as well as soap. I use this vegan product because it has a sweet fruity smell. After washing my hands with this soap, I retain this beautiful odor for a longer period of time. If you want an organic product that is just a soap then this LUSH is great.
Lush Bar soap doesn't require preservatives to remain fresh and effective. People with sensitive skin can use it because it is a 100 % natural product. As long as it air dries between usage, it can retain its life span and stay with you for 4-6 weeks.
I always keep them in my washroom. In fact, I also carry its small pieces in my purse because this is the only soap and organic product that I am addicted to.
15. Lips Exfoliator (Sugar Scrub)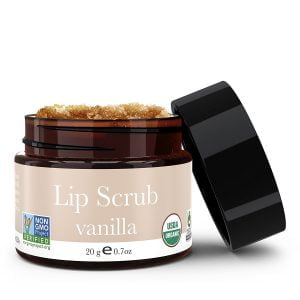 This is the only organic product I make it by myself at home. It's really easy to make. You just need 2 products coconut oil and sugar. This is a 100 % vegan product. I use this on my lips twice a week. If I don't have any facial scrub I use this too once a week at least.
It removes dead skin from lips
Increase blood flow in lips
Makes lips soft and bright
However, if you have sensitive skin then consult professional estheticians as they will recommend a product based on your skin. Try to avoid over-exfoliation as they leave your skin dry.
Buyer's Guide of Natural Skin care Products
Everyone wants healthy and glowing skin. I have worked a lot on my skin and all those years of hard work have paid off. I am here to guide you and tell you the parameters which you should consider before buying vegan skincare products. You can make home-based products but life is really busy and I have no time for them So I go for ready-made skin products.
For Acne-Prone Skin
If you have acne-prone skin then try to avoid Cheap products that have lethal elements e.g lead. Some animal-derived components are also harsh to your skin so the best option is to go for organic products. The vegan products have fewer chances to cause a skin reaction.
Avoid Sun Damaging
Use Sunscreen. Apply it every after 2 hours even when you are at home or there is a rainy day. UV rays are highly dangerous and they can penetrate your home and also clouds during rainy days. Try to use dermatologically recommended sunscreen. I have really sensitive skin and easily get skin inflammation so I go for those vegan lotions that also act as a sunblock.
Moisturizer Your Skin
Use Moisturizer and Eye Cream every time. These vegan skincare products prevent premature wrinkles and hydrate your skin. Moreover, as I mention every time, drink a lot of water and get good sleep for glowing skin.
Cleanser Usage
Use cleanser every night. I don't use makeup remover to remove makeup, I use coconut milk cleanser (my favorite vegan product) and it removes makeup and dirt too with the help of cotton pads. I try not to use products with alcohol in them because they give me irritation sometimes. If you want to go for a vegan skincare product related to cleanser then you should go for coconut milk or almond milk.
Body Wash Oil
Make sure that you use an accurate body wash body oil and soap during your bathing routine. It retains the skin glow and hydrates your skin. This organic skincare product is also antibacterial in nature as they kill microorganisms on your skin. Body washes remove all the dirt and pollutants from your skin pores.
Conclusion
I truly believe that using harsh and dangerous products on your skin have long term negative effect and who would want to damage their own skin. This is the reason that I go for natural skincare products.
Biology has always been my major subject and I have learned that skin is a really important protector, it protects your skin from microorganism and it also reflects how are you feeling from inside e.g dehydration can damage and dry your skin so everyone should take care of themselves internally and externally.
Today I have taken you to the end of my organic skincare products journey and have given you my thoughts on various products which we should use every day. I would also recommend that before applying products to your face, visit a skin doctor.
Try to take care of your skin, clean it, hydrate it and detox the skin and give your body a rest which it deserves.