Looking for free video editing software? Here we have curated a list of best free and affordable video editing software for you.
As we, all know that video editing has now become a proper fulltime major profession. So the number of platforms offering video editing services are also emerging gradually. Every profession is dependent on an office, workplace or an online platform and so does the video editing.
Video editors use different software in order to make the video better or to nourish it. These platforms are the complete workplaces of video editors and their whole job is concerned with it. These software's play a vital role in making the video a must to watch and make it out to a trending list.
It is of utmost importance for a video editor to choose software depending upon the features he needs and the level of editing a video requires. Some software generally offers more features and some offer slightly fewer or different ones. Many software that offers good features are paid with monthly subscriptions and some are there in the market for free.
Usually many video editors who are just starting their careers hesitate to spend money on software that they don't even know how to work upon. They prefer to start their career as a video editor on non-paid software's. That is absolutely a just approach that you must taste a thing before you jump in.
In this article, we will try to cover top free software that is present in the market, and the will surely help you to boost up your passion along with the commitments.
Wonder share has introduced Filmora 9 with a moto: Empower your imaginations. As of expert s, it is a very simple software that is practical as well as easy to use. This software offers complete video importing, editing and exporting of 4k videos. Although it is not truly free software it is affordable. It gives a trial period so you just have to download it and experience. The subscription starts at $39.9 yearly providing you all features, free updates, and free tech support.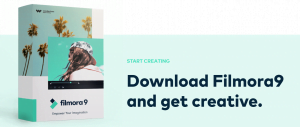 The key features of the software are discussed below.
Multiple or Complex Layering
Quick video Rendering
Smooth frames achieved through stabilization of video
Audio equalizer and stabilization
4k video support
Complex editing of texts
Mosaic
Upload directly to YouTube or Vimeo option
Scene identification
Removal of unwanted noise
| | |
| --- | --- |
| Pros | Cons |
| Easy to upload media and audio | No Storyboard editing |
| Unlimited Options | Some transitions too sketchy |
Official Website
Movavi  Video Editor 15 is a great option with a logo of Make Videos, Share emotions. Generally, if the emotions of someone arouse by your work you are definitely going in the right direction. The company itself claims it to be one of the easiest software to learn and practice upon. Finally leading to some of the quickest video editings.
All of the transitions and filters can be found. It is said to be most effective for them who are starting their youtube career. It is also a very affordable software with 7 days of trial version so that you can satisfy yourself before pursuing subscriptions that are starting from $39.95.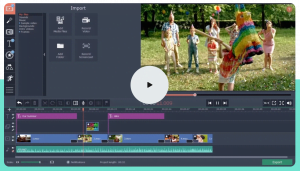 Some of the features are mentioned below
More than 150 creative filters.
Faster video processing.
Built-in clips available
Video specialization and direct webcam video capture option.
Dozens of transitions.
Keyframe animations of clips.
4k video processing capability.
Direct upload to video platforms.
Concealing
Reverse and Chrome Key
Multiple numbers of languages supported.
| | |
| --- | --- |
| Pros | Cons |
| Simple and easy to use | No media library |
| Numerous filters and transitions | Poor technical support |
| High rendering speed | Dull color grading |
Official Website
Cheers, we are moving towards the free software's, Blender is one of the most popular software present in the market currently. And it has got good reasons to be among the top. It is an open-source platform that allows the editor to render their own videos and in addition animate them. Visual effects are another must mentioning domain of Blender. It is available not only for windows users but also for Mac OS and Linux users. And most importantly it is absolutely free.

Features are mentioned down:
Scripting Tools are available.
Texture Painting
Motion Tracking
3d viewport
UV editor
Screen space reflection
Subsurface refractions
Camera Motion Blur
Grease Pencil for 2d drawings and animations
Cycles rendering optimizations
| | |
| --- | --- |
| Pros | Cons |
| Great animation | Bit uneasy |
| Keyboard shortcuts | Toolbars highly customizable |
| Skin modifier feature | Complex selection system |
Official Website
This been software has been among the few top software in the list of video editors as it is wonderful open-source software. After getting hands-on experts have assured that it has all the right must-have features. The best thing about it is it's magnificent and easy to identify the interface. Some of the most tempting filters are on board and most importantly you can customize your own filter. In fact, every feature in the software can be customized according to your needs. Supporting 4k resolutions, it is also free software and is loved by many editors who prefer simple and customizable workspace.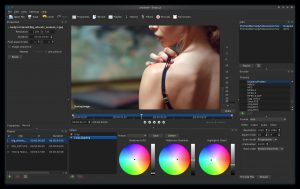 Some key features of Shotcut are
Latest audio/video formats supported
Sound and color generators.
Supports 4k resolutions.
User-friendly interface.
Option to import a single frame.
Multi-format timeline
Capture from HDMI, Webcam, SDI and IP stream.
Thumbnail vie and encoding panel.
Native Editing
Customizable features.
| | |
| --- | --- |
| Pros | Cons |
| Lots of output formats | No 360 VR or 3D support. |
| Chroma keying | Fewer transitions. |
| High filter effects | No built-in sharing to popular sites. |
| Best for a free program | |
Official Website
It is another fabulous option but only supported by windows. And it has been able to enter and capture the video editing industry due to its large options data base. The software comes in two versions a free one and a paid one. Before subscription, there is a trial option to experience if it matches your needs. With many additional and unique features, this software is among the lists of the top video editors. The only problem one may face with this software that it is not a very easy software to learn. The Pro version is for $19.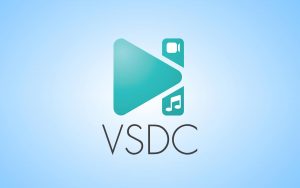 It has many important features like:
Editing System is Non-Linear
Hardware acceleration
Slideshow maker
An array of charts and tables
Multi-color Chroma key
High-quality algorithms
Customizable and adjustable parameters
Quick Processing
Text and Audio Overlay
| | |
| --- | --- |
| Pros | Cons |
| Good formats | The interface is not good |
| Amazing quality export | Technical support is not free; Windows only. |
| A powerful app for free | |
Official Website
Another great option in this long list is Lightworks with a moto of Video Editor for Everyone. You may be wondering that it is a new software but it has been serving in this industry for more than 25 years. It has been used in many of the finest films of the film industry like the wolf of wall street and the king's speech.
Whether you need to make a video for youtube or a social media platform it can be processed here even in 4k resolutions. It is a very smooth and efficient software saving a lot of time. In the free version, you will be given access to some of the most needed features. Paid versions start at $24 / month with enhanced and advanced features. Numerous tutorials for light works are available online.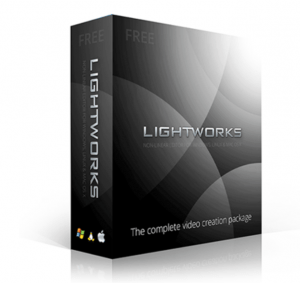 The main aspects are mentioned below
Collaborative tools
Extraordinary processing speeds
Editing along with trimming
User-Friendly Interface
Lo-Res Proxy 4K
A large number of formats supported
Royalty Audio and Video Content
Multi-cam Support
Direct Upload to Video Platforms
| | |
| --- | --- |
| Pros | Cons |
| Fast, free and Robust | No support for Mac |
| Wide-range of video formats | Limited tools |
| Compatible with Windows, Linux | Poor display landscape |
Official Website
Avidemux is a free video editing and processing platform and is an essentially open-source platform. Having the ability to support many file formats, tasks in Avidemux can be automated using different techniques including powerful scripting and job ques. It is supported, by Linux OS, Mac OS, and Microsoft Windows. Although many editors are not aware of Avidemux still it has proven good editing software for people who are looking for simple and easy editing software. Many features are present but the advanced features are lacking in this software.
Following features make it good software:
Audio and Video filters
Supports the famous platforms
Majority of formats supported
Fewer system requirements
No watermark
Completely free
DE interlacing video
Video converting options
Custom scripts
Video filters
| | |
| --- | --- |
| Pros | Cons |
| Simple and easy to use | Limited features |
| Basic for beginners | |
| Good animation | |
Official Website
Hitfilm Express is an absolutely free video editing software with some of the most high end advanced professional tools to make your content stand out in this age where there is more content on social media than on print media. This software stands out for the beginners, filmmakers, and YouTubers. Easy and simple to use makes it more popular. A large range of features are offered and importantly free of cost, which is difficult to find nowadays. Numerous playback options are available during the editing.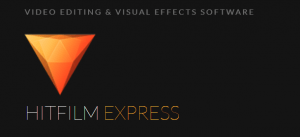 Most important features are mentioned below
Simulation of particles
Direct import of a 3 Dimensional model
Customizable effects
Backdrop change
Masking tools
Muzzle flash effect
Realistic shotgun effect
| | |
| --- | --- |
| Pros | Cons |
| Best video editor for Professionals | Complex interface |
| Ability to continue editing during export | Low export performance |
| Playback options that speed up editing | |
Official Website
You pronounced the name right, it is as it is. Davinci resolves as the name indicates is for those people who want to give artistic impressions and effects to his content. Artistic features present in this software make your content a masterpiece in no time. As it is produced by Black Magic Design, it has all the support of Black Magic Raw files.
If you work on tight deadlines then this software is surely for you. It makes use of machine learning to empower your drawings. The unique cut page of this software is the first thing that impresses the audience. Its advanced playback engine makes you save a lot of time.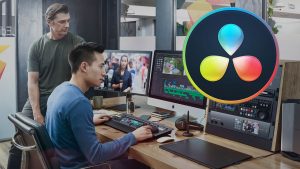 Some of the best features are listed below.
Audio Post Production
Color Grading
Effective and User-Friendly  Cut page.
Play Back engine
Intensive formats as H.264 and RAW
Speed wrap timing
Facial Recognition
Tape Style Audio Formatting
Keyframe curve editor
Faster Masks and 3D performance
OpenFX Compatibility
Immersive 3D audio
New Foley Sound Library
| | |
| --- | --- |
| Pros | Cons |
| Intuitive interfaces | Features bit Overwhelming |
| 3D sound effects | Shortcuts can be clunky |
| Incredible color correction | Display bit cluttered |
| Multiple takes | |
Official Website
You must give OpneShot a try if you are looking for an open-source editor with immense features. Its user-friendly interface makes a beginner a professional in a matter of no time. Audio manipulation is another feature that makes it attract people. As of the reviews by professional editors, the software is must give it a try because of its enhanced feature set and effects. And greatly the software is also free. Its a wonderful video editing software for Linux.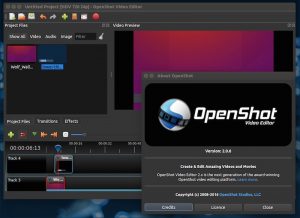 The features that make it prominent are listed below
New Animation Framework
Video effects engine
Title editor
3D animations
Slow Motion feature
70 languages supported
No watermark
| | |
| --- | --- |
| Pros | Cons |
| Open Source tool | High-quality crashing |
| Powerful video editing | Buggy |
| Reliable | Limited effects |
Official Website
If you are in search of a very simple and easy to use free video editing software then I guess KdenLive is also a good option to consider. It is completely open-source software and is available for Windows, Linux, and MAC. The interface of the software is extremely user friendly and is one of the major reasons that people feel easy with it. There is a very extended choice of features and transitions you can opt to make your videos lively. The support team and system of KdenLive is very responsive as well as helpful.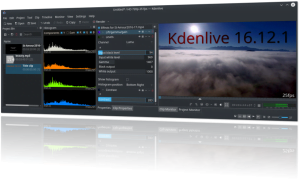 This entirely free software comes with the following main features
Multi-Track Contact Modification and Editing
Numerous Audio scopes available
Customizable interface
Efficient Support
Proxy Editing
DVD tracks
Multitrack interface
Video Scopes
No Subscription
| | |
| --- | --- |
| Pros | Cons |
| High compatibility | Slow update |
| Multi-track support | Not Stable, crash frequently. |
| Multiple free open-source addons | Not suitable for advanced video editing. |
| Creative video effects | |
Official Website
If you are using a Macbook or IOS device then this one is literally an excellent choice for you. The software is designed with such precision that even the beginners feel comfortable. The very simple interface without any complexities attracts you to send you more time. The plenty of themes present are just awesome for your content. Chroma Keying tool is one of the specialties of this software. If you use an Apple device then you are free to use it on any device and continue your work without any sort of interruptions.
Some of the major features of iMovie are
Refined Interface
Chromes Key
Variety of Audio tools
Customizable Interface
All Apple gear is compatible
Plenty of Tools
Theatre feature
No Watermarks
| | |
| --- | --- |
| Pros | Cons |
| Easy to use | Difficult menus |
| Intuitive functions | Limited integration with YouTube music |
| Auto-save feature | |
Official Website
Media 100 is also one of the exclusive software for MAC. It is not an ordinary video editing software only, in fact, it is a complete suite that offers every type of feature for the editor that he may use in editing. No specialized hardware is required, you just have to get an Apple device with you. It is entirely free software. Professionals use this software frequently because of its all in one inclusive pack that offers each and every type of feature. It is also quite easy to use and hence beginners can get hands-on it.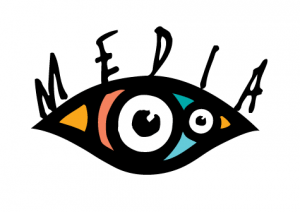 Key features of Media100 are
Astonishing Transitions
All Formats supported
No specific resolutions
Professionally refined interface
BORIS Red Supported
Multi-camera edit
No Complexities
Entirely Free
Professional Touch
| | |
| --- | --- |
| Pros | Cons |
| Professional grade transitioning | Slow app switching |
| Simple interface | |
| Multi-camera editing | |
| Supports all resolutions & formats | |
Official Website
Quik is a very handy video editing software supported for windows along with mac. It is originally from the manufacturers of Go Pro cameras. Allowing instantly to edit and trim your videos according to your needs, this software does not need importing or exporting of media. It can be synchronized with the Go Pro, making it very easy to edit videos without any waste of time. The software is completely free. All the important features that one might need are already present. Hence making it the first choice of Go Pro users.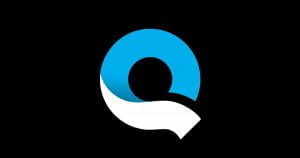 The following features make it a must-use software for editors
Smooth Operations
Easy to Navigate
Works with live photos
Tag Best Moments
Audio Video equalizer
Smart Cuts
GPS Stickers
Beats Synched with transitions
Direct Sharing
Refined Interface
Compatible with any go pro
| | |
| --- | --- |
| Pros | Cons |
| Auto editing | Limited editing tools |
| More than 20 themes | Can consume battery fast |
| Amazing audio library | |
Official Website
If you are an Instagram user then you must be aware of what boomerang is. It allows you to make and customize short video clips. Although you can not call it a full video editing software but you can carry on the major or most demanded tasks. You can join 10 photos with transitions in order to make it an animation. The software is very easy to use and hence any beginner on Instagram really loves it and prefers it in every content.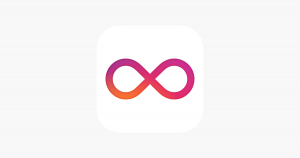 The following features highlight it among others.
Multi-camera compatible
Direct video recording
Join Many Images
All operation is autonomous
Very quick and reliable
Share directly to media
Most User-Friendly Software
No compatibility issues
| | |
| --- | --- |
| Pros | Cons |
| Simple and easy to use | Not for professional users |
| Share directly onto Instagram & Facebook | One-feature app |
Official Website
This video editing tool is specially designed for agencies, marketers, publishers, and advertisers. This smooth video software supports video stabilization, audio editing, and adding animation in the video. Its also coupled with video and photo libraries alongside more than 100 templates. This software is praised by people due to its simplicity, amazing flexibility, and features. This is very easy to use, especially for beginners.

The following are the features that make it an easy, model digital software for publishers.
Video collaboration
Speed adjustment
Audio tools
Split and Merge
HD Resolution
Video Stabilisation
Automate Video creation
Embedded Video data
| | |
| --- | --- |
| Pros | Cons |
| simple and easy to use | Not all-in-one video editor |
| Make good presentation videos | Limited features |
| High-quality templates | Cant add sound effects |
Official Website
Machete Video Editor Lite is one of the simplest video editing software ever created. It supports Video editing only, but no audio editing. You can remove the audio but can't edit audio without the paid version. The paid version costs you about $19.95. This is the simple basic software only available for Windows and only supports AVI and WMV files. This tool has a very simple interface and doesn't require any prior experience regarding video editing.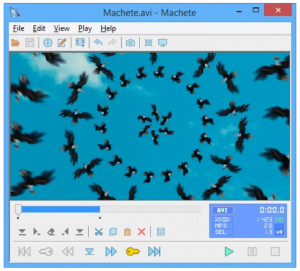 Features include,
Shortcut Keys
Support for video files with H.265 (HEVC) video stream
High DPI scaling
Support for MOV files with JPEG video streams
Uncompressed WAVE audio format
Restore video files with a damaged or missing indexing table
Improved User Interface
| | |
| --- | --- |
| Pros | Cons |
| Very easy and simple to use | Windows Only |
| Quick editing | The free version only supports AVI & WMV |
Official Website
Videopad is one of the best video editing tools in the digital world of multimedia. Created by the NCH software, with a brilliant user interface, this is best for home, work, and business. Because of its well-equipped features, this software is commonly popular among content creators, for Facebook and YouTube. Anybody can make HD resolution videos though Videopad, with visual effects, texts, and transitions. It also includes various sounds effects that allow the user to access a large library of sound effects.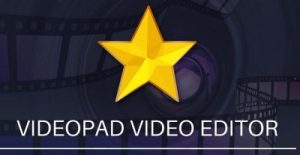 Based on these mentioned tools, Videopad has a lot of features.
Burn DVD
3D Video Editing
Export Movies In Multiple Resolutions
2D To 3D Stereoscopic Conversion
Video Transitions
Create Video From Camcorder
Record Narrations
Library of pre-made transitions
Visual Effects Templates
| | |
| --- | --- |
| Pros | Cons |
| Robust, fast and easy | Not simple to use |
| Directly exporting to YouTube | Not recommended for beginners |
| Built-in for professional use | |
Official Website
Freemake is the all-in-one, free video editor. It can modify, convert, extract audio from video clips, splice and merge videos. It's simple and easy to use and has the ability to rip and burn DVDs and Blu-rays and embedded them to websites and other video blogs.
This tool can convert videos between more than 500 video formats and enables multiple audio and image formats. With Freemake, you can convert HD films to MPG or AVI file format without losing quality. You can also able to convert movies with subtitles and change the font size of the subtitles.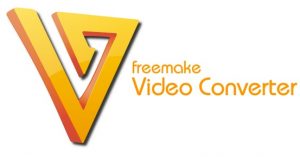 Some of its features are,
Convert 4K and Full HD Online
Pull Visuals From YouTube And Other Websites
Convert Between 500+ Formats
Embed Video To Websites Online
Cut, Join, And Rotate Clips
Convert Movies With Subtitles
| | |
| --- | --- |
| Pros | Cons |
| Totally free all-in-one | Features may block during installation |
| Easy, simple and fast | |
| Splice and merge video clips | |
Official Website
Windows movie maker is a free video editing tool, available for Windows to turn videos into a spectacular movie. With its eye-catching features, this is one of the best editing software to edit videos and make a brand new one. This software contains a number of tools in its library including templates, animations, transitions, overlays, and narration. It also has the ability for basic track editing, visual effects and dwindling animations.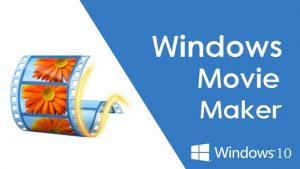 Features Include
Auto Movie Options
Title Customization Tool
TitleFX Text Effects
FilmTouch Effects Wizard
Timeline Narration
Extensive Audio Track Selection
| | |
| --- | --- |
| Pros | Cons |
| Simple to use | Freeze and Crash |
| Supports all windows format | Limited Video features |
| free to the users of Microsoft Windows | Different versions not identical |
Official Website
Why Video Editing is important?
Your videos can undoubtedly be stunning and perfectly fine without any room for improvement. This is true until the post video production process begins. The flow of video you have in mind is not exactly the same as how you have been recording the video and you notice it after its creation.
Have you ever been shooting a video and something unexpected took place and ruined your whole effort of video making? Your flow is destroyed and is never like before. That's where the editor enters the game. As soon as an editor gets a video for editing, their primary goal is to make the video as smooth as possible and secondly to match the flow of video as you wanted it to be primarily.
In the video editing process, the best or you can say the most effective way to achieve a good flow is through cuts. As itself cutting is not the major task, you just have to select what you need to cut and software processes it. The big task is to join different cuts and achieve the flow that is required in the video. The timing of the cut has to be exactly perfect. Not very soon nor very late. The audience feels something missing if you cut it soon and on the other hand, people don't like the dragged videos too where you cut the scene a bit late.
The next big block in video editing is known as transitions. And you can definitely call it the backbone to establish the interest of the audience in a specific video. Only joining the cuts is never going to impress the audience but will sure bore them enough to leave it aside. The main thing is the flow. And the power of flow comes through joining different cuts using impressive transitions. A video with perfect transitions definitely gets more importance by the audience rather than a video that has good content but no proper transitions.
We all believe that video editing only includes the visual or display part, but this is not really true. Something really important is needed in any case and that is the audio part. To adjust the sounds and volumes according to the scenes and transitions in the video is not a piece of cake. Audio clips are one of the basic fundamentals to get the emotions of the audience involved in your video. It can really make the mood of the audience if it is well-timed and adjusted and on the other hand it can make them disappear from the video by breaking their mood.
Conclusion
Video editing has great importance to make us emotionally and in some cases physically connected with the video. With good video editing you can present your average piece of art as a masterpiece and on the other hand, a masterpiece may feel like crap if not properly edited.
This article is co-authored by Ahmad Raza and edited by Umer Baig.