Are you a files hoarder? Never mind, this article is for those who are looking to get Dropbox free space?
Dropbox is one of the best places to store your images and documents. Their basic plan (free) provides 2 GB of space. This might be a lot for those who only store a couple of documents but those who are storing their images and videos, this 2 GB might run quite fast. In this post, we'll share all the ways through which you can get free Dropbox space.
How to get Free Dropbox Space?
In the past, there've been some other methods to obtain Dropbox free space. The methods were connecting your Facebook/Twitter account, following Dropbox on Twitter, downloading Mailbox for and connecting it to Gmail, etc. However, these methods of obtaining Dropbox free space are not available anymore. The working list of methods is provided below. We'll keep updating this list If we discover a new way to obtain free Dropbox space.
Send feedback to Dropbox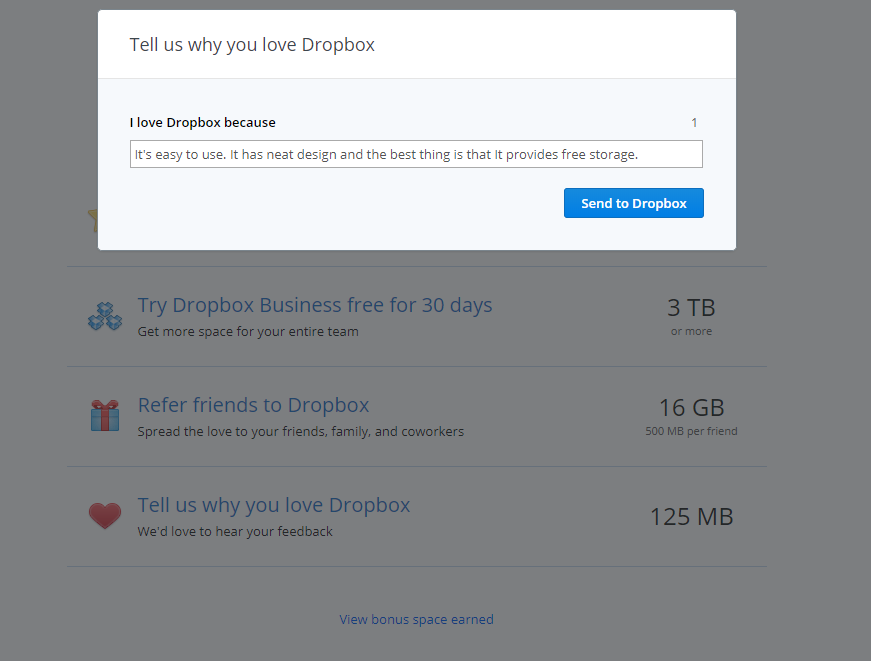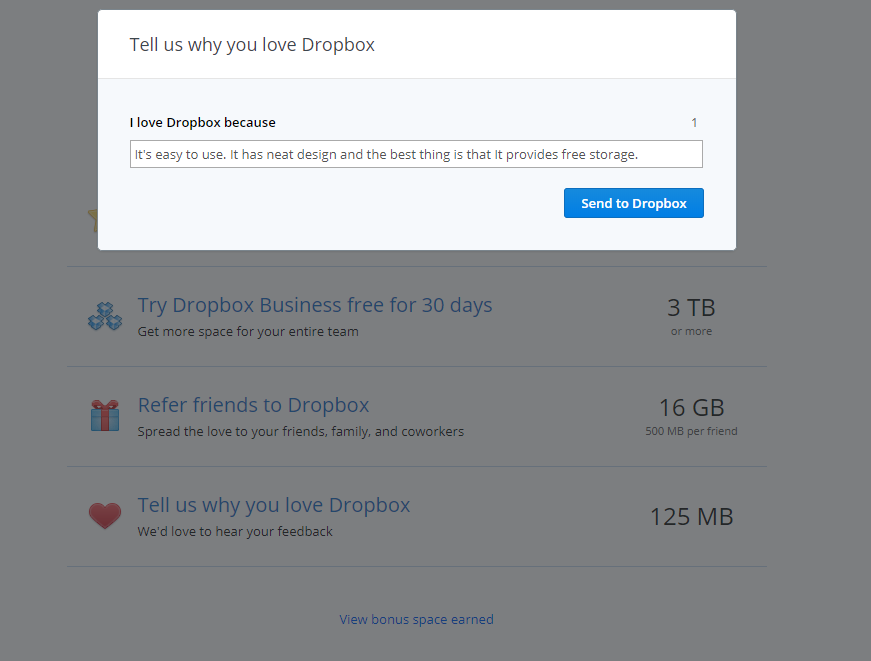 This is the easiest way to earn free Dropbox space. You just have to tell why you like/dis-like Dropbox and you'll get free 125 MB space. 125 MB isn't enough but getting it just by writing a few words isn't bad. Head over to Dropbox Get more space page and click on Tell us why you love Dropbox. Write a couple of words and send them to Dropbox and you'll get 125 MB of free space right away.
Get started with Dropbox

Want to earn free space just by completing some easy-to-do tasks? Then head over to the checklist on Dropbox get started page. This checklist contains seven tasks. You can complete any five of them to get free space. After completing these, you'll get 250 MB of free space. This might not be enough but still, something is better than nothing. These tasks are quite easy to do. The tasks include:
Take the Dropbox tour
Install Dropbox on your computer
Put files in your Dropbox folder
Install Dropbox on other computers you use
Share a folder with friends or colleagues
Invite some friends to join Dropbox
Install Dropbox on your mobile device
You might have completed some of them already like Installing Dropbox on your mobile device and putting files in your Dropbox folder etc. Once you complete at least 5 of them, you'll immediately get 250 MB of extra space.
Refer friends to Dropbox
The second method to obtain Dropbox free space is to invite friends to use Dropbox. Who doesn't like free storage? Invite your friends to Dropbox and if they start using It, Dropbox will provide both you and your friend with 500 MB of additional storage.
Dropbox is like a service that your friend won't deny using If they're not already using It and signing up via you would help them get an additional 500 MB (along with 2 GB basic plan) to store their files. You can also track the status of your referrals and see If they've joined Dropbox or not.
Get Extra 16GB Dropbox Storage
The only thing here is that It is limited to 16 GB of free Dropbox space. So once you've invited enough of your friends and earned 16 GB of free storage, you won't get any additional storage.
Contributing to Dropbox community Forum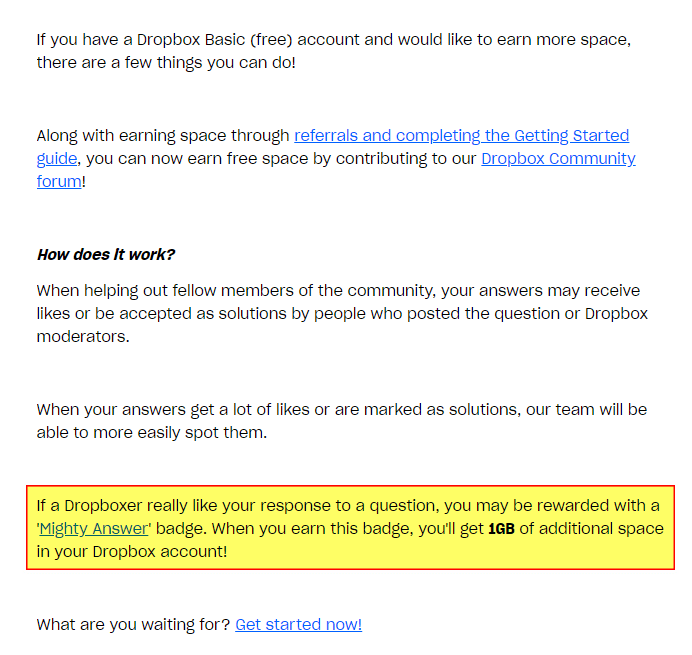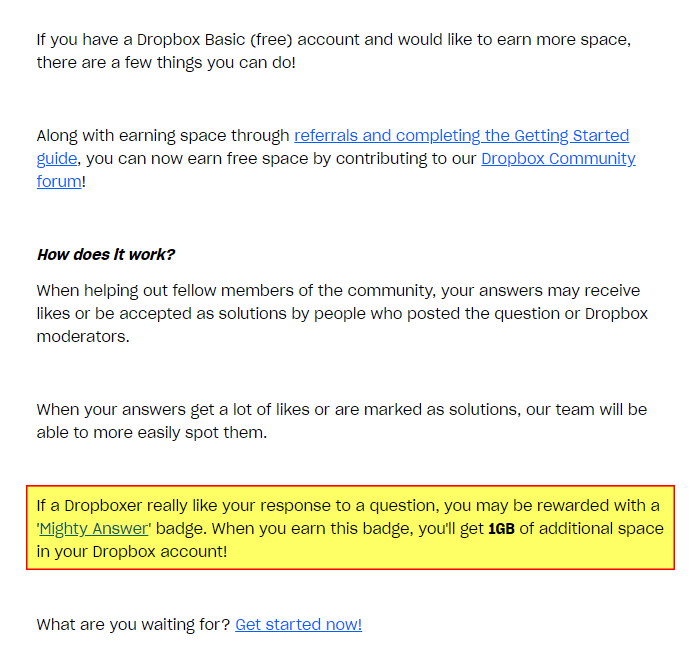 Dropbox Community Forum is a place where people post all their questions and discussions. You can also ask questions there and other members like you or a Dropbox moderator would start posting replies to your question. You can do that too. If you know the answer to someone's question, you can post a reply and If your answer is correct, It will get likes or might be accepted as a solution by the person who've asked the question.
1GB Extra Dropbox Storage for Free
Once your answer gets a lot of likes or is marked as a solution, the Dropbox team would be able to spot them. If they like your response, they might award you with a Mighty Answer badge. The benefit of this badge is that you'll get 1 GB of additional space.
You can visit the Dropbox community Forum and see If you might be able to help someone along with earning some free storage.
Bonus: Dropbox business Trial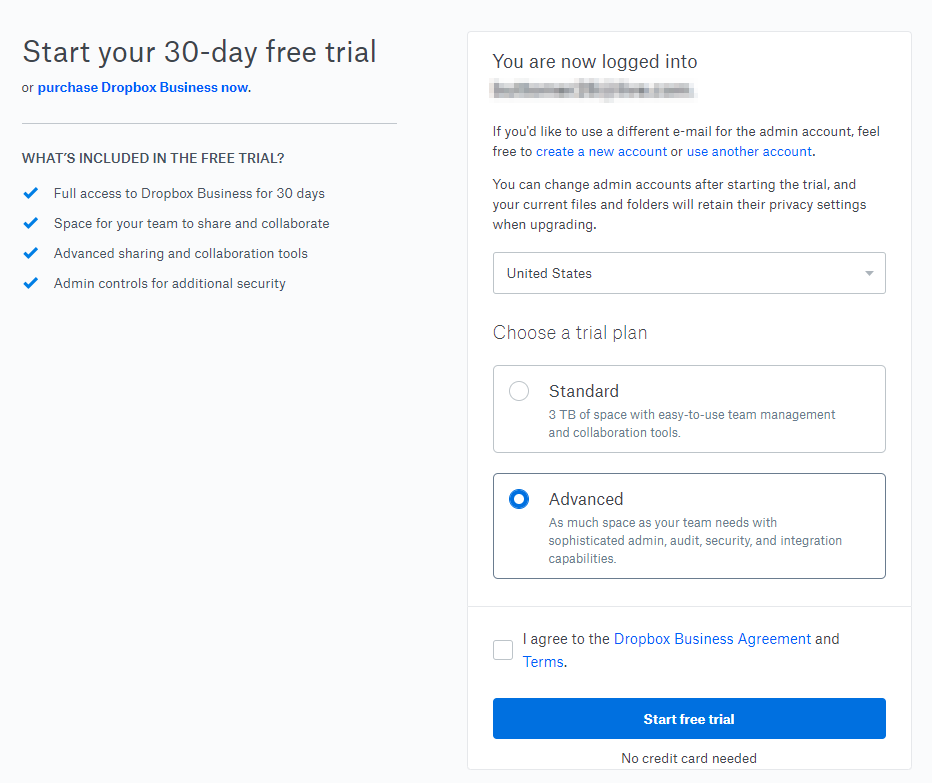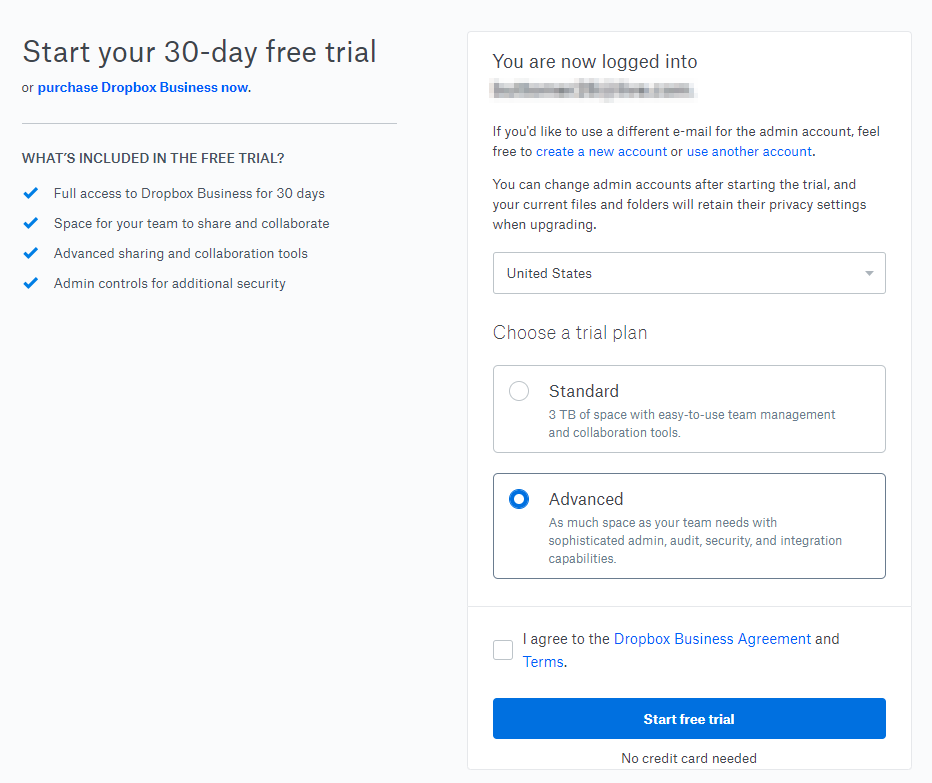 If you need more free Dropbox spacec but only for a limited time, then you can try out Dropbox business free for 30 days. With this method, you'll be able to get 3 TB or more depending upon which trial plan you choose. Along with this huge amount of storage, you'll also get additional features like:
Space for your team to share and collaborate
Advanced sharing and collaboration tools
Admin controls for additional security
The good thing is that It doesn't require a Credit card for this trial but you'll only have access to these things for 30 days. If you want to continue for more than 30 days, then you'd have to start paying.
Dropbox vs OneDrive
Here's a little comparison between Dropbox free plan and OneDrive free plan.
Dropbox
OneDrive
Free Space
2 GB
5 GB
Sharing Files / Folders
✓
✓
PC folder backup
✓
✓
Mobile Apps (iOS/Android)
✓
✓
Text Search (search text content of all files)
Not available in free plan
✓
OCR (search text within an image)
Not available in free plan
✗
Additional Storage
- Send feedback (125 MB)
- Get Started Checklist (250 MB)
- Refer Friends (500 MB per referral, max 16 GB)
- Contributing to the Dropbox community forum
Refer Friends (500 MB per referral, max 10 GB)
Plan comparison
2 TB for $9.99/month
6 TB for $9.99/month
Wrapping Up
Each cloud storage provider like Dropbox, OneDrive, Google Drive, Box, etc. has its own advantages/disadvantages. It's your choice with which provider you want to store your files. If you use Dropbox then these were all the ways through which you can avail extra storage for your Dropbox account. If you've any additional method which you'd like to share with us, you can tell us through comments.