Mendeley is one of the most widely used reference management software and this blog post is dedicated to the installation of Mendeley on Ubuntu.
If you have already installed Mendeley on Windows/Linux, read how to use Mendeley.
Mendeley for Ubuntu
Mendeley is cross-platform software and can be installed on Ubuntu, Generic Linux, MacOS along with the Windows. You do not need any special dependencies for the installation of Mendeley on Linux Machine.
Download Package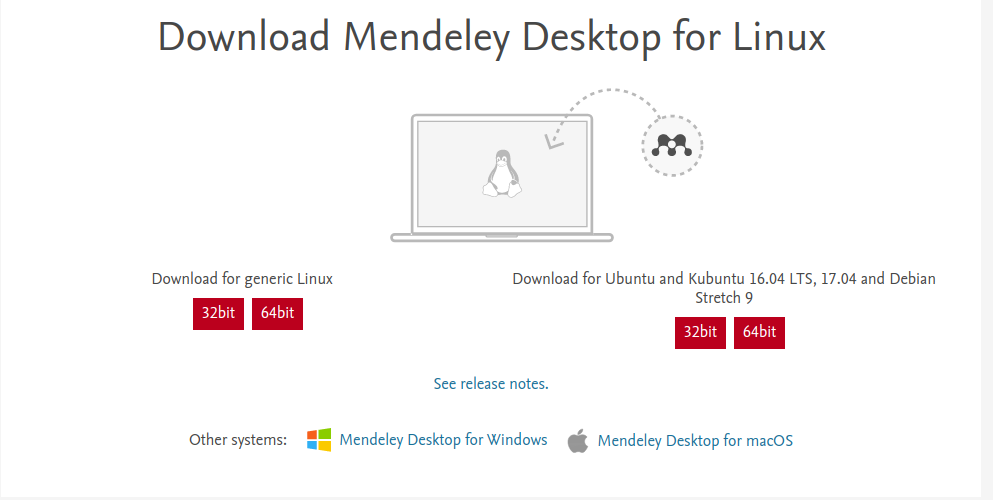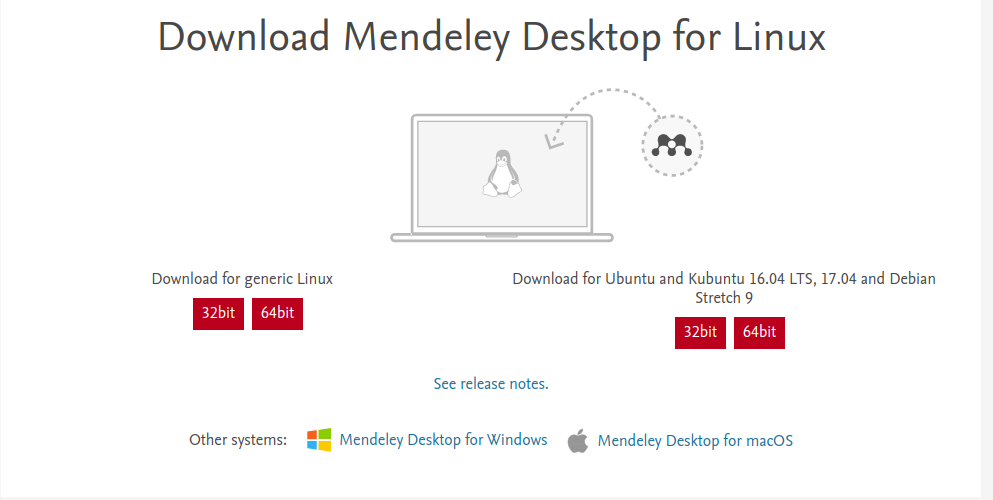 It is advised to download the Mendeley installation package from the official website only. The same installation file is compatible with Ubuntu and Kubuntu 16.04 LTS, 17.04 and Debian Stretch 9.
Download Now
Change the File Name
This step is absolutely optional. Just because the file name contains ugly prefix like version name, architecture, platform. I just can't type everything. (Yeah! lazy me).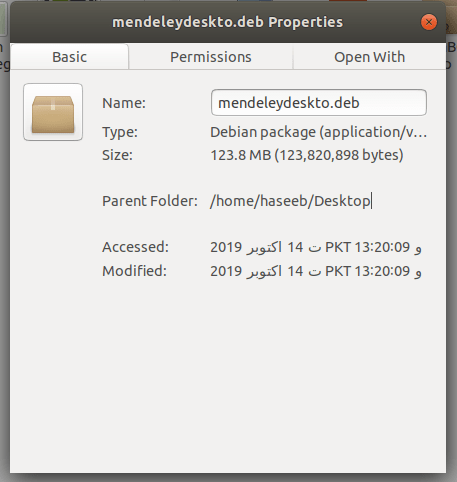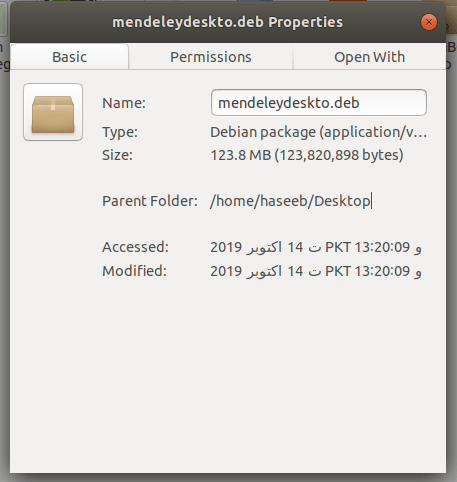 Please also note down the path of the file that you will need during the installation process from the Terminal in the next step.
Initiate Installation
Step 1: Open Terminal and Start Installation
Type the following command in the terminal
sudo dpkg -i <path-to-downloaded-package>


Now, after hitting enter it will ask you for your password. Give your password and hit enter again. Below is the screenshot if it works fine.


Step 2: Install Dependency gconf 2 for Mendeley
In some cases, the requires dependency gconf 2 is missing so you need to install it as well using below command.
sudo apt-get install gconf2


Step 3: Repair Broken Files
This is just a troubleshooting process. You can do this using following command in Ubuntu
sudo apt --fix-broken install


Just press Y and hit enter.
Troubleshooting is complete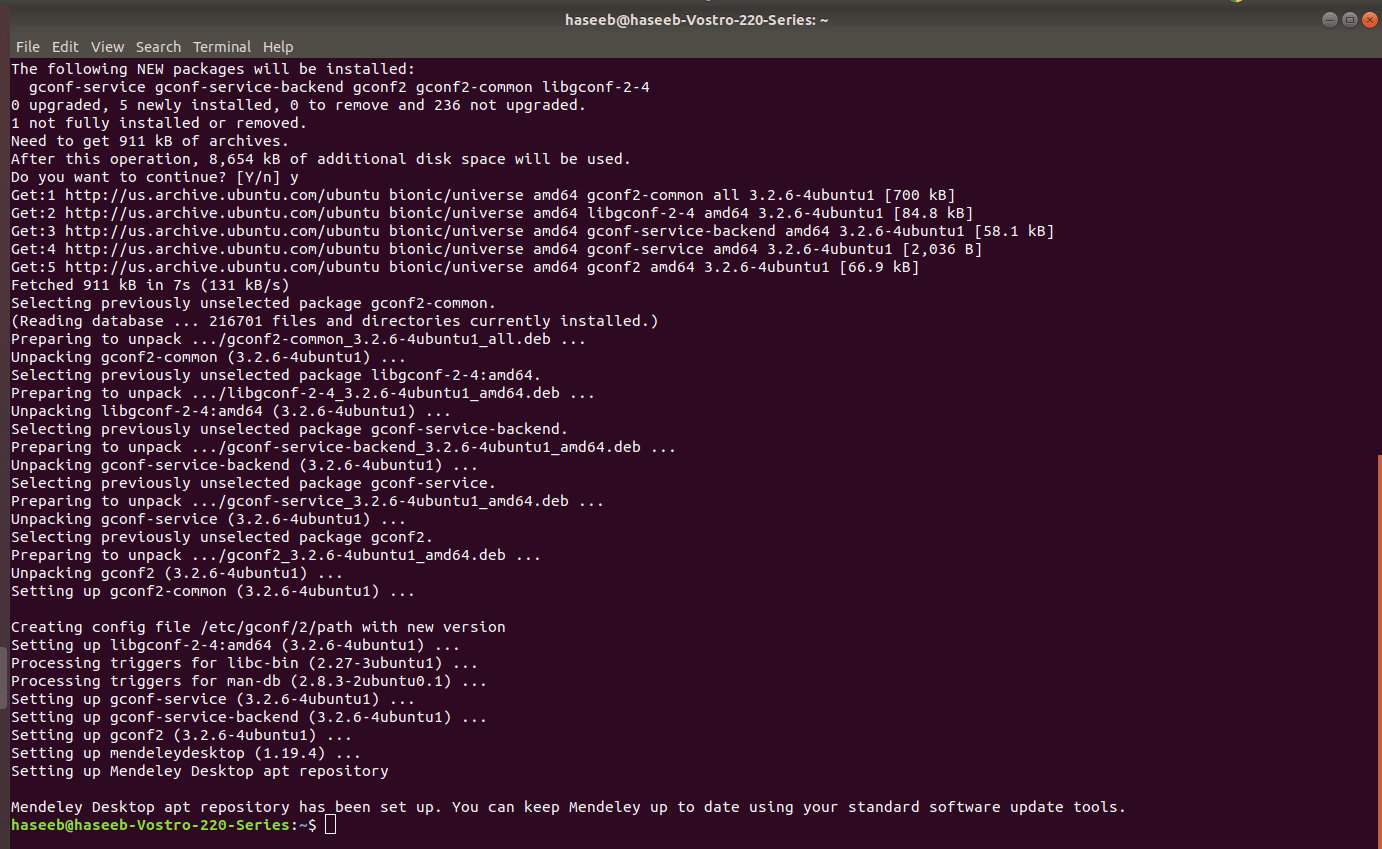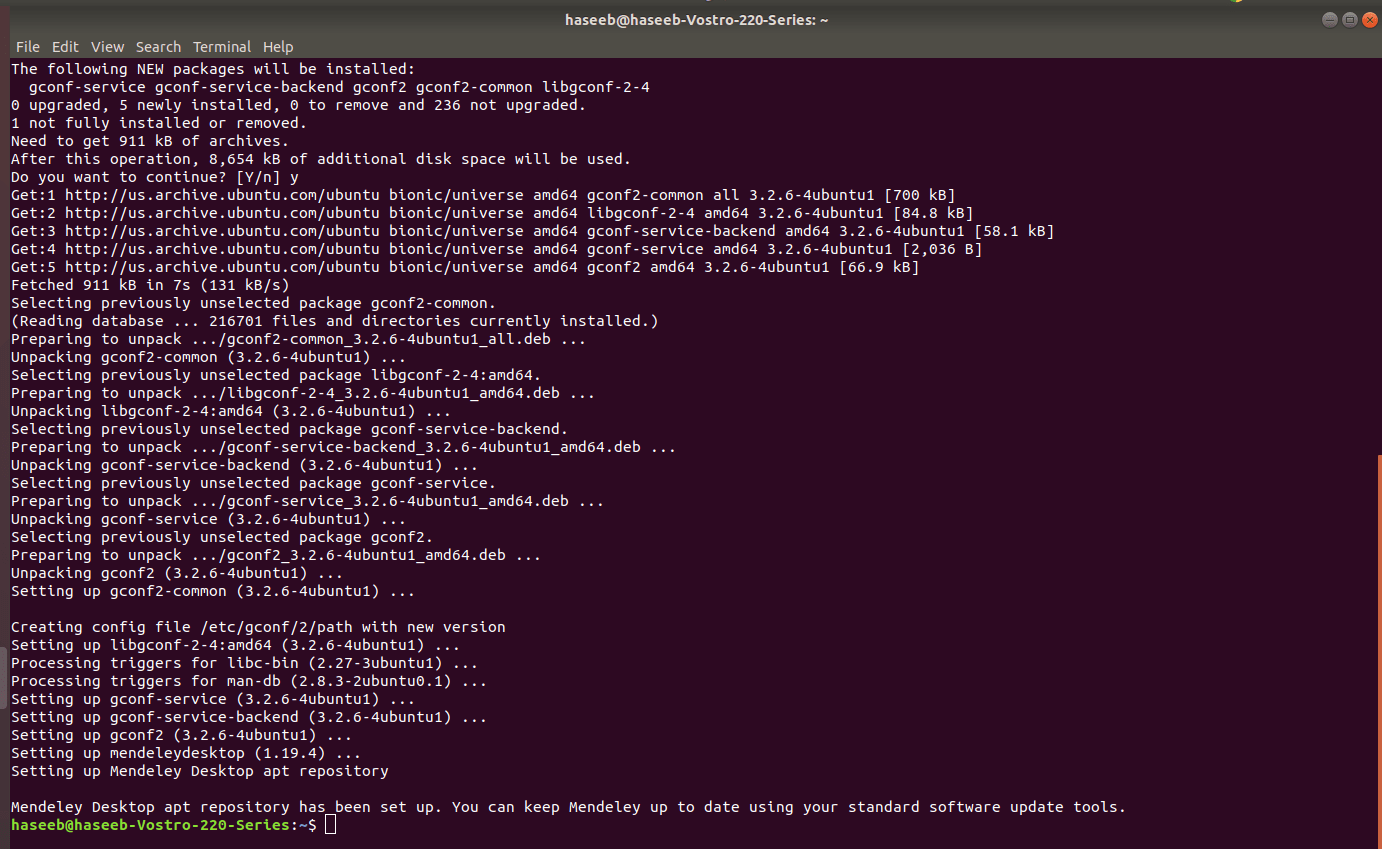 Step 4: Repeat Step 1

Run Mendeley on Desktop
Once you are done with the installation, use the following command to run the Mendeley Desktop on Ubuntu.
mendeleydesktop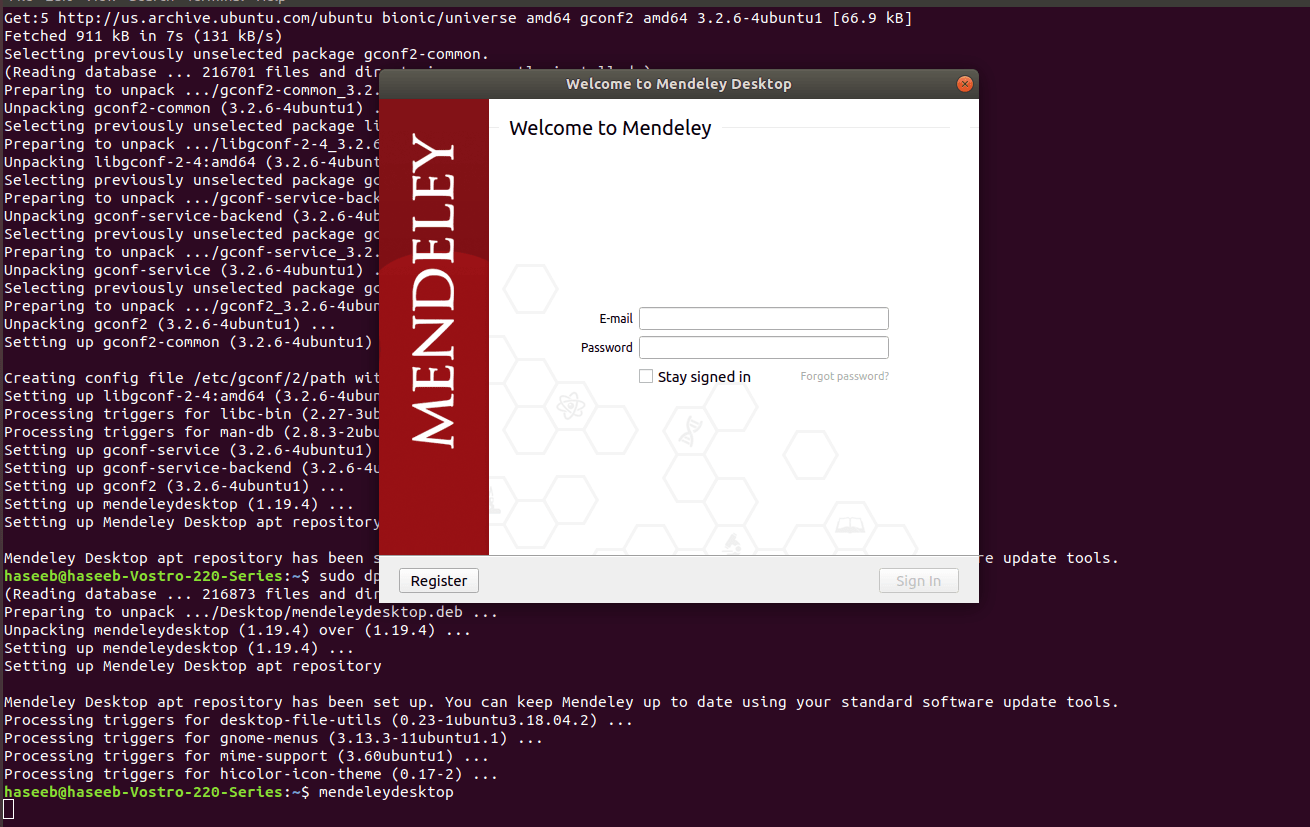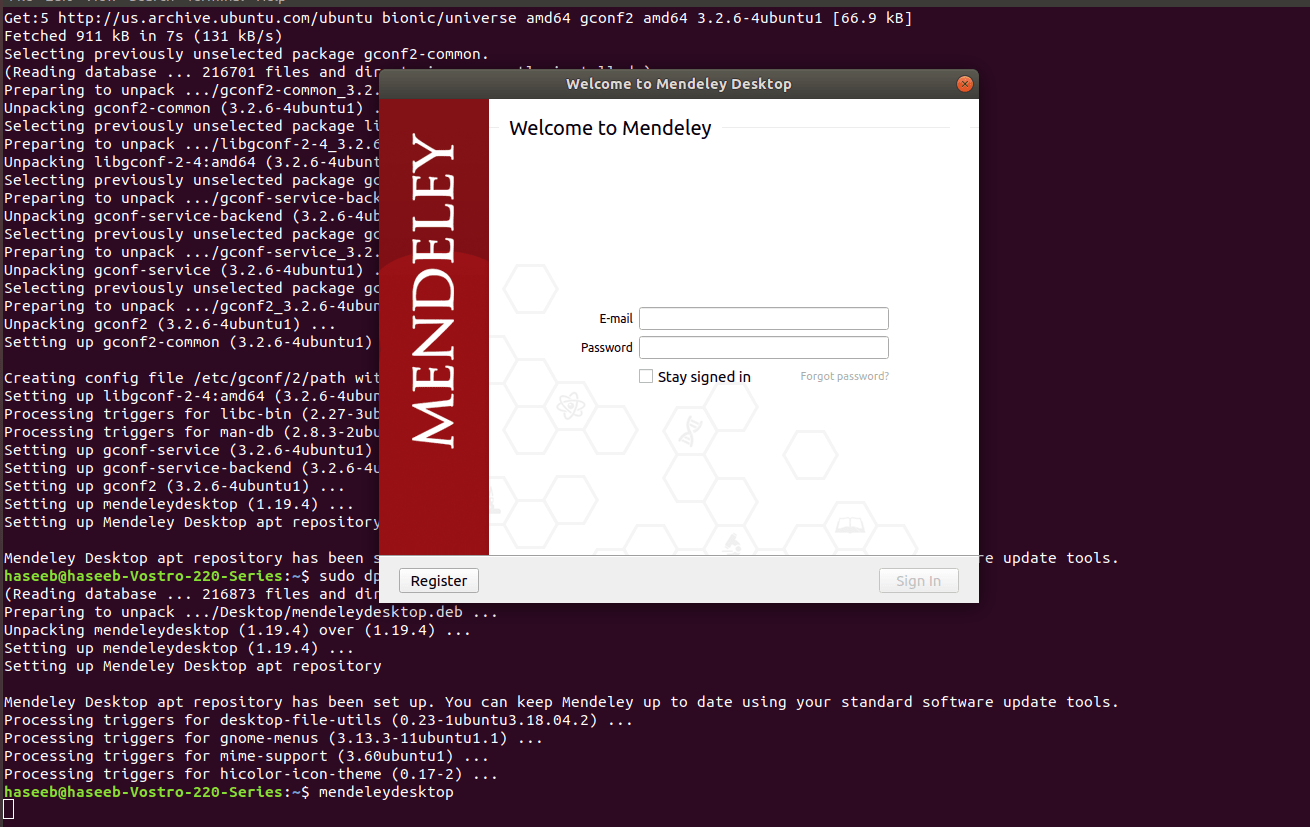 Enter your login credentials and continue using Mendeley on Ubuntu.
Note: If you don't know how to use Mendeley, please refer to our Mendeley's Guide for Researchers.
Configure Mendeley with LibreOffice
Right after logging into the Mendeley, it will generate following pop up.
Just click on the "Install Now" button to install Mendeley Citation Plugin for LibreOffice.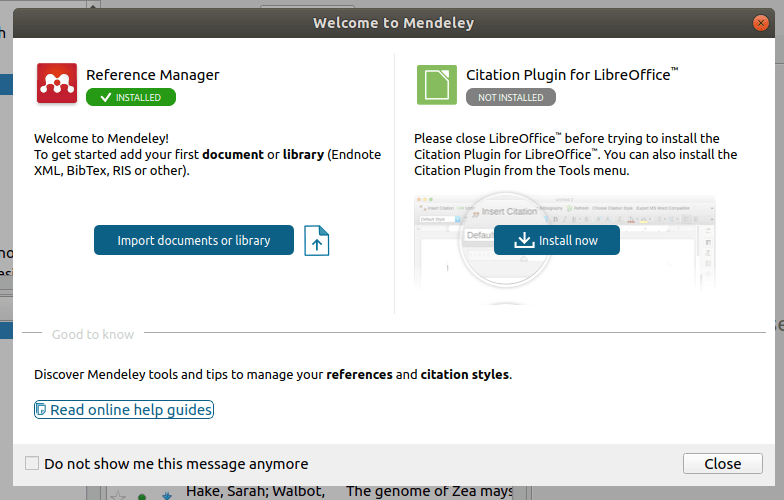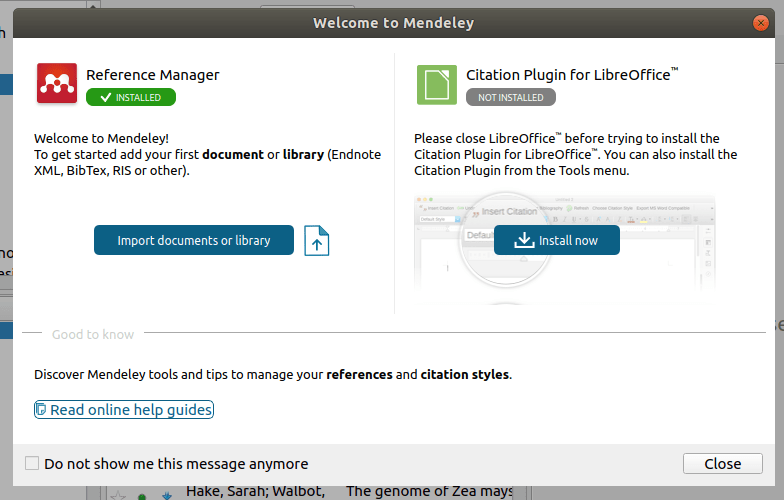 How to Update Mendeley on Ubuntu/Debian?
Like most of the applications, Mendeley Desktop on Ubuntu will update automatically via the default software updater.
In some cases, you have to do this manually, for this purpose, you may use the following command
sudo apt-get update
sudo apt-get install mendeleydesktop
How to Remove Mendeley from Ubuntu?
Well, if you need just need to clear your record from Mendeley Ubuntu, you just need to sign out from the application.
If there are some issues like broken installation, space issues or anything else. You can use the following command to remove Mendeley from Ubuntu.
sudo apt-get remove mendeleydesktop
Wrapping Up
Mendeley is the best reference management software due to its amazing feature. I wrote this feature I really wanted to use Mendeley on Ubuntu desktop. I haven't replicated the tutorial on any other machine so it's possible that you may get other types of errors.
Please feel free to comment those errors below so I can help you. If you have any query related to Mendeley, you ask.
Sharing is Caring.