Need to make a quick citation for a report or an article? No time for downloading and importing paper in the Mendeley? Well, NoodleTools Express is quite helpful for this purpose.
Most researchers don't recommend online citation tools over the desktop ones. Few of them still prefer to write the bibliographies on their own without any assistance of software. But you always don't have time for this.
Using NoodleTools, You can make citations and bibliographies in MLA, Harvard and Chicago style. Following tutorial will help you to make the citation Noodle tools Express MLA citation.
Why Do I Need Noodletool Express
For those of you, who are new to research should know what Noodletool is. Noodletool is a management platform that is used for online research. The Noodletools express promotes authentic research and as well as critical thinking.
I honestly stay organized with this software. I can make accurate citations, do writing preparation, evaluate information, take important notes, evaluate information and so many other things which I couldn't have achieved without Noodletools express. The teachers & librarians provide feedback and this is allowed by the classroom environment.
The monitor individual has a role in the group work contributions, and as well as viewing statistics related to source use. Moreover, NoodleTools express is designed with privacy in mind for online students. NoodleTools Express provides support for the individuals to engage themselves deeply in the research work and produce original work.
How Noodletools Express Supports Individuals
Noodletools support every student across abilities & grades. There are 3 differentiated levels.
Important features
Here are the important features. I will be precise and quick to overview.
Noodletools Express Allows Organizing and Outlining
You articulate argument, generate original ideas and as well as make new connections. Click on the tabletop to pile notecards, manipulate and tag. Then connect them to your outline topics in order to prepare yourself for writing.
Noodletools Allow Peers Collaboration
You can use different devices and connect with your collaborators. You can gain specific and clear feedback/response from a research partner. You can make choices based on your peers questions. This feature also ensures accountability in your group/team work.
Citing Sources Through Noodletools Express
You can have access to the accurate citation following recent guidelines (including The Bluebook legal sources). You can build MLA, Chicago/Turabian, and APA citations. You can also get error-checking and pop up help as you build citations. Another interesting fragment of this feature is that you can have access to Database & Book citation import through this Noodletools Express.
Sharing with instructors
Last but not least, this is another important feature. Students are assigned their work and their progress is observed in real-time. They are also provided feedback with time. Students can study and reflect on their own patterns as well. Moroever there is also Scaffold writing across disciplines.
Step 1: Open MLA Citation Generator
Here is how you get access to the Noodletools express. Go to the website of the online citation generator and click on the desired citation style. In our case, it's MLA Citation style.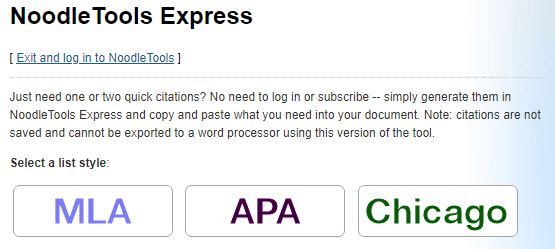 Step 2: Select Citation Type
There are several citation types you can choose from, but we will go for the Journal for research articles. You can also choose a book, newspapers, court papers etc.

Step 3: Add Details of the Journal
Add all the necessary details of the research article and journal into the tool and click on the save.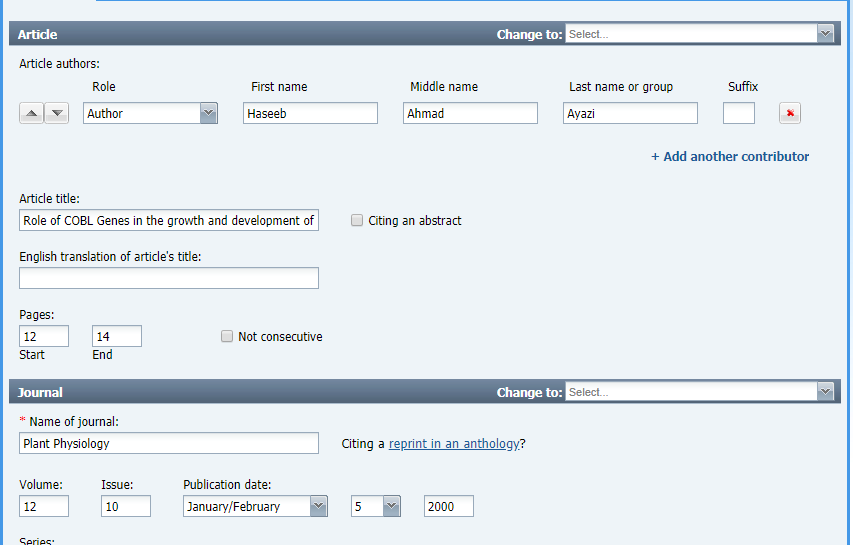 Step 4: Paste the Citation in your document
Done! While copying the citation, please keep the following things in mind,
Italics may be lost when you transfer your citation to a word processing document so you may need to replace it.
Lines that wrap should be indented 5 spaces or 1/2 inch.
Citations should be double-spaced (both in and between citations

I hope this quick tutorial will help you in citing the documents using MLA. If you wish to produce more such tutorials, feel free to suggest us in below comment box.
Do you any Online Citation Generator tool better than this? Please share it with us.