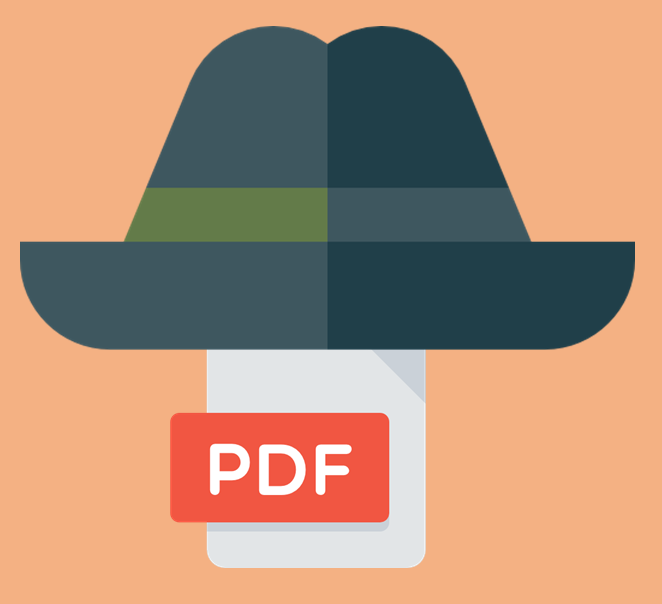 PDF files are the best way to store, share and read your documents without disturbing the format of the original file. Being a researcher, you will encounter a lot of PDFs during your research span.
Whether it's your résumé, research paper, a tax form, e-book, user guide or a web page, you can't go wrong using a PDF. Chances are you've already got a free PDF reader installed on your computer, but you can do a lot more with your PDF files than you might think. Following are 10 best tricks that you can do with your PDF files.
Convert PDF to Word Online
Converting PDF file to Word is necessary when you want to make certain changes in your PDF such as changing design, photos or text. I found it also useful in copying text or images from a PDF file. Adobe Acrobat premium can do this for but it cost you a paid subscription.
A PDF file can be converted into Word for free using a tool known as smallPDF. This tool has a limit of 2 conversions in an hour. If you want to do more than that, you can use another tool PDF to DOCX.
Speed Up PDF File
PDF can be very slow sometimes to open. This primarily occurs due to the too much multimedia content in your PDF or unnecessary add-ons in installed with your PDF Reader. There is a tool which makes Acrobat and Reader load faster by disabling plug-ins, updates, splash screens, and other startup slowdowns.
You can allow the plug-ins and features you want or enable them as you need them. You can download the tool from CNET.
Merge PDF Files Online
Sometimes you need to combine different book chapters or research papers in a single PDF. Merging those PDF files can help you a lot and saves you from the trouble of handling these files anymore.
You guessed right! there is a free online tool that lets you combine multiple PDF files into one single file. Now either it's the multiple quotations files of your chemicals for project or book chapters, merge them and either send them or keep them as one. Use the tool here.
Edit PDF Files Online
I love to write, draw shapes and add different images to PDF files. I do it for different purposes including,
Making notes for myself while reading PDF
Replacing some text or the photo
Explaining any point in PDF before sending to someone
It matters how it serves your purpose but editing PDF is very helpful especially when you can do it online for free on this tool.
Password Protect PDF File Online
Encryption (simply Password Protection) of PDF file can help you to hide the content of your file and ensures the secrecy. There are two different ways to do. One is while creating the PDF file using Microsoft Office. This is the built-in feature of Microsoft Office. This can be applied to .Docx files also. How to Geek have explained it how to do it.
Alternatively, this can be done via an online tool (such as Locklizard) as well. You just have to upload your file to this tool and this will password protect your PDF file. Above method is more recommended than this one.
Remove Password of PDF File Online
Removing password from PDF file is possible if the encryption used on the file is not so much strong. If the encryption is strong, you won't be able to remove the password. There is an online tool that can remove the password from the PDF file for you. You can use this tool here.
Add Watermark to PDF File Online
Watermarking the PDF file can be very useful if you are going to make your report or paper public. This will help you in branding as well as promoting your organization or institution. Watermark can be added while creating the PDF file using your office software as explained on Microsoft Website.
If you have already created the PDF file, then you can do this now as well. Using this tool, you can not only stamp text on the PDF file as a watermark but Images as well.
Convert PDF to JPEG or PNG Online
If you are looking to send a specific graph, chart or photo from a PDF to someone then converting your PDF into JPEG or PNG can be helpful. You don't need to send the whole file to the recipient. Webmasters or bloggers also require this when they want to show some part of the PDF online while overloading their web page.
There is no technicality in converting the PDF file into PNG, an online tool can do this for free in few seconds. You can do this using this online tool.
Convert Any format to PDF Online
If you are working with any application of Microsoft Office, you can convert it into PDF file using built-in save as function. But if there is any other file format you are working with or somehow if your that function is not working, you can use this free online tool to convert your any file format to PDF.
Save Web page as PDF
This is a very routine thing for me to save the web page as PDF. It helps me to read articles later offline or print them. You can also use this feature when you have a limited access to some web page or research article.
This can be done directly using browser action. Press Ctrl + P, a dialogue box will appear. Click on "Change" and select the option of PDF and then press the blue button of save as demonstrated in below picture.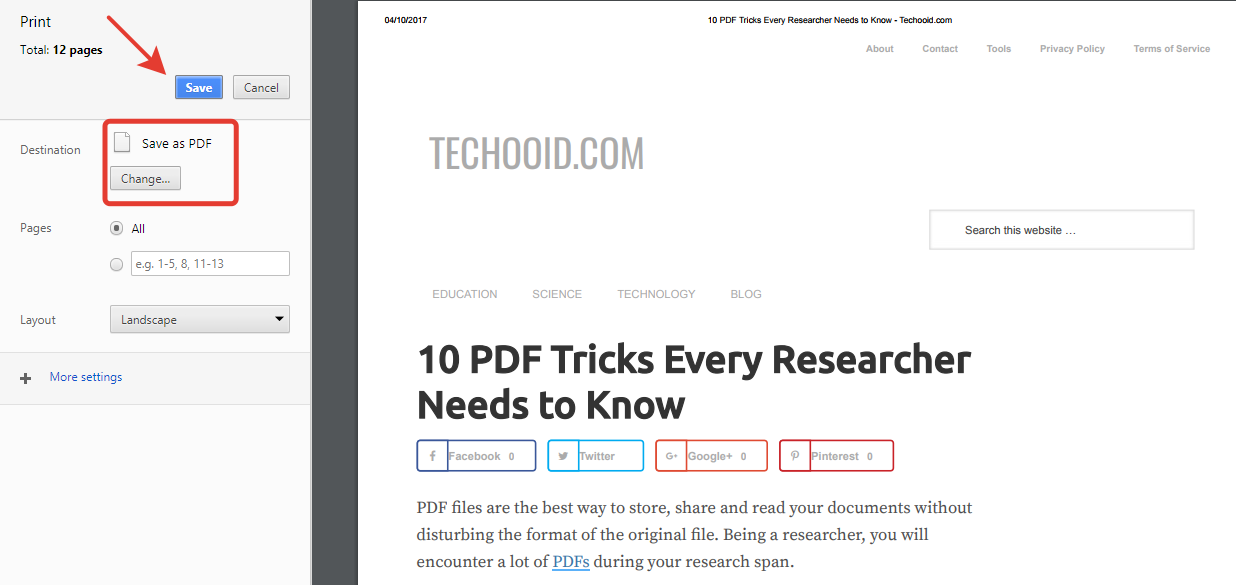 These PDF tricks are entirely based on my own experience. You can also contribute to this article by sharing your experience in the comment box below. Please make sure to share this article with your friends and colleagues.